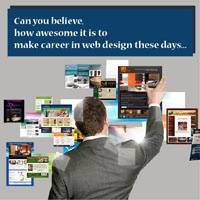 welcome
Almost everybody who owns a website and wants to make it appealing and engaging needs a web designer. To become a professional web designer you can join any one of the specialized Web Design courses.
This article discusses the career opportunities which you can avail after you finish with your web design course. The Web Design courses in Delhi/NCR with TGC India make you ready to grab the best web design opportunities.
Career opportunities
Web designers are hired by education, gaming, advertising, media and by almost every other industry which needs highly attractive and customer friendly websites. Web Design courses at TGC India help you develop the skillsets to take on multiple career options.
After you finish with one of the Web Design courses you can choose to work with a company full-time or take up freelancing. Freelance web designers work for specific number of hours a week and earn well. Here are some of the popular career opportunities which will open up after you finish your course:
Web Page Design
Web page designers design website templates or mock designs which can be tailored/customized based on the client needs. If you are more on the artistic side and love graphic design more than programming then this option is suitable for you. All good Web Design courses offered by TGC cover basic concepts of graphics as well to help you excel in this area while designing for web.
Website maintenance
Many organizations like real-estate agencies update their website content on a regular basis to indicate their sales etc. and thus website maintenance is very crucial for them. If you possess both design and technical skills then this option will suit you. You can have the flexibility of working from home too. At TGC we make sure all our Web Design courses have topics in website maintenance too to build your concepts in this area.
Webmaster
If you love web designing and can program as well than this option will suit you. Webmasters are highly skilled and are responsible for programming, project development, maintenance, database management etc. Basic knowledge of backend scripting languages like PHP covered in brief in Web Design courses offered by TGC can help in this field.
Web Content Developer
Web content developers are responsible for creation and management of the content which has to be published or circulated on the web. If you have a flair for writing and love reading about web trends/technologies then this field will suit you well.
Career advice
As a fresher in the field of web design you can explore the web and study how a user of a site interacts with the site. This will help you gain idea of what the users want from the sites and thus you will be in a position to design engaging sites.
Initially you should focus on front end languages like Java, CSS etc. As you proceed in your web design career you can slowly build knowledge of backend programming languages like PHP.
Web designing courses at TGC are framed to cover all the key concepts and make you industry ready. If you creative you can make a lot of money in the field of web designing.