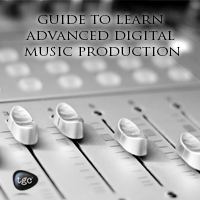 welcome
So, music has been your passion and you want to adopt a career in digital music production? If yes, then do not be speculative and tread ahead as this career prospect can earn name, fame, and money for you. To make a career in audio engineering, you need to get enrolled in a reputed Sound engineering institute offering certified courses. Given here is a complete guide to learning digital music production and how a good sound engineering college is helpful.
How to Learn Digital Music Production?
Get Hold of a Complete Workstation Start practicing on a keyboard workstation. Do not go for synthesizers or keyboards alone because with the help of a complete workstation, you can practice step sequencing, recording, sound manipulation, how to mix various beats and a lot more. So, as a first step grab a workstation of a popular brand and start practicing on it. There are a lot of features in a workstation, using which you can learn the audio settings. Most intricate things like the creation of layered e-readings can also be learned using the workstation.

Downloading Multitracking  Program:
As the next step, you should buy Multi-tracking program. It is better to purchase it but you may even download it. If you want to learn digital music production professionally, you should buy a Production software like Cubase or Protools but the beginners can go for Traverso or GarageBand. Whatever program you choose to buy or download, it should be compatible with MIDI which is a necessity for digital music production. Once you are done with the purchase of the software, you can start practicing digital recording, generating music tracks and a lot more. In order to record live e-music with the help of the software, you have to connect your PC with MIDI-compatible keyboard.

What to do After These Two Basic Steps?
Once you are through with the important steps mentioned above, you should study the basics of Sound engineering to understand the concept of e-music production. There are several intricate concepts that you would not be able to understand and therefore a proper guidance is necessary. It is due to this reason that aspirants look for the institute that can train them for a bright career in digital music production. Although it is possible to learn the production of digital music by the method of trial and error there are a number of complicated terms like oscillators, bass, numeric frequencies etc. for the understanding of which you need to get enrolled in a certified course.
One can also enroll in TGC Delhi's one of the leading institutes in Sound Engineering and Advanced Music Production, TGC has an on-hand approach to get students trained by producing songs and beats by the end of the course, they got a young team of music production artist, also the music enthusiast working on many production assignments. Students daily music assignments include creating a different genre of music such as hip hop, rap, Bollywood, trance, club, house, R&B, country, Blues etc. Students are being taught in a friendly atmosphere and under the guidance of various music production artists. TGC has all the digital music production equipment such as MIDI keyboards, Mixers, Mic, Plugins etc.

How an Accredited Music School is Helpful?
Attending an accredited music school can help you to achieve the desired professional level. All those who aspire to make a foray into the field of digital music production should get enrolled in a renowned and certified sound engineering institute. In an academic environment, you are taught by the professionals of the industry and get practical training for multi-tracking, mixing, recording etc. which will help you to hone up your skills.
Contact Us