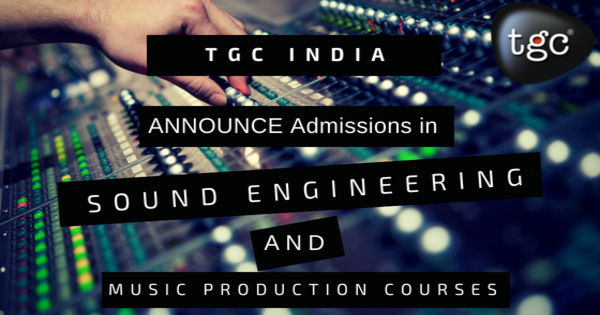 welcome
Music Production classes and Sound engineering courses are in great demand in today's World. Do you have a dream to become a renowned and famous sound engineer or music producer? Make your dreams look dazzling and scintillating and enroll in our sound engineering courses in Delhi or other branches of TGC in India. It is up to your country or your locality or residence. But if you are lucky enough to be in India or any other location, it is recommended for you to visit any of our TGC centers. You will find a lot of reputable Sound Engineering courses which cover all the important concepts you need to learn.
You can achieve your dream to become a leading Sound Engineer and Music producer with grace even though you have never visited a music studio in your life. But how to achieve this goal and how this idea work? You will get an answer for it while you join music production classes and sound engineering courses.
Career in Sound Engineering
Indians are well known to have a great love affair with music over the years. Indian audience has been devoted to classical and Bollywood music. They are now heading to other forms of music like western classical, Jazz, or other amazing fusions. Live music is another great trend these days. The scope of sound engineering was limited to TV, films, and radio. These days, the increasing trend of concerts and DJs has a huge influence to satisfy different tastes. Sound engineering has become a great career option.
Why Sound Engineering?
Sound engineering is more than just a regular field where the interviewer asks for your past experience and qualifications. But you still have to undergo sound engineering courses as they will help you stay ahead with modern technology and it will also help you keep up with advances in your career.
Along with it, you should look for the well-rounded music production classes to get complete practical experience and exposure. You can gain training from industry experts and professionals to achieve skills that you cannot get from textbook or online tutorials.
You can learn to use DAWs and improvise in real-world scenarios when you actually mix sound with digital types of equipment. You will learn to play with different high-end types of equipment and programs in a sound engineering school. The business aspects are also covered in a professional sound engineering course. It will be helpful when it comes to starting your own studio after gaining training.
Music Production
You can learn to make contemporary music on your own with music production courses in Delhi by using some of the best tools for PC. Basically, it deals with mixing, editing, and recording. With proper essence and the blend of creativity, knowledge, and hard work, you can produce any kind of music. In this session, each class is helpful to gain knowledge of different tools to produce nature of sound, music, time management, and flawless performances. One should join music production classes to enhance their career.
There are different technologies used to deal with dynamic effects, videos, and create audio files. This course will teach you to use different technologies so you can become excellent and pay special attention to detail in music production. This music production classes includes applying your knowledge in regulated projects.
Contact Us