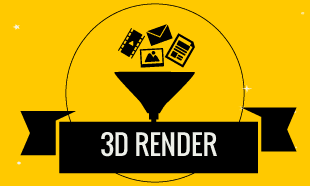 Instructors
Adv. Certification in 3D Rendering
Adv. Certification in 3D Rendering
INTRODUCTION
Adv. Certification in 3D Rendering Course is  a career Program intended to cater to the  increasing demand  of skilled and quality manpower for the ever growing  domestic and International VFX industry . This course is aimed at equipping students with the basic and fundamental skill sets needed for creating realistic and seamless renders.
OBJECTIVE OF Adv. Certification in 3D Rendering
The Adv. Certification in 3D Rendering  Course is a course  that would  help Multimedia Students learn how to effectively render 3D images in architecture, design  and Media applications
COURSE OUTLINE of Adv. Certification in 3D Rendering
Introduction to Rendering
Use of Shader Networks
Rendering Guidelines
Introduction to Mental ray
Advanced Mental ray
Displacement Maps
Camera Projections
Interior Rendering
Exterior Rendering
COURSE BREAKDOWN OF Adv. Certification in 3D Rendering
MODULE 1
Introduction to Rendering
Introduction to the User Interface for rendering
Render View Basics
Render Region Basics
Use of anti-aliasing to Improve Render quality
Interactive Photorealistic renders
The use of Resolution gates
Custom Rendering presets
Batch Rendering
Setting Renderable Cameras
MODULE 2
Use of Shader Networks
2D and 3D texture types
The use of textures for projections
Creating Bump maps
The use of Displacement maps
The use of Transparency Maps
Layered Textures
Layered shaders
Double sided shading
Volumetric Shaders
Reflection and Refraction
MODULE 3
Rendering Guidelines
Importance of Scene Scale and Light decay
Importance of Object Normals
The use of Final Gather maps
The use of Render tokens
Motion Vector Pass creation
Rendering issues troubleshooting
MODULE 4
Introduction to Mental ray
Use of Object scale in Rendering
Unified sampling Rendering
The use of Physical Sun and Sky
Color space in 3D rendering
Final Gather
Global illumination
Image based lighting in Mental ray
The use of Render layers
Multipass rendering
MODULE 5
Advanced Mental ray
Lightmap nodes and SSS shaders
Forward light scattering
Back light scattering
Diffuse Gamma curve and Scatter bias
Altering caustic Color Attributes
Mental ray dielectric material
Final Gather accuracy
Final gather attributes
Final Gather trace depth
Photon color attributes
Global illumination Work flow
MODULE 6
Displacement Maps
Displacement settings
16 bit displacement maps
Vector displacement maps rendering
MODULE 7
Camera Projections
Camera projection Basis
Camera Projection Shader
Camera Movement Animation
MODULE 8
Interior Rendering
Use of lens shaders
Materials for interiors
MODULE 9
Exterior Rendering
Sunlight in Scene
Color Management
The use of cut out maps.
BY THE END OF THE 3D rendering COURSE,  STUDENTS WOULD BE ABLE TO
Effectively make use of the major 3D rendering  software
Create internationally standard and seamless renders  for visualizations, Television and Web Media
Create  realistic 3D renders of objects.
SOFTWARE/ PROGRAMMING LANGUAGE COVERED
Autodesk Maya
3DS MAX
Vray
Autodesk BackBurner
CAREER OPTIONS AFTER COURSE IN Adv. Certification in 3D Rendering
Students who complete this course have the following career options
Rendering Artist
Texturing Artist

[cp_popup display="inline" style_id="9132″ step_id = "1"][/cp_popup]
WHY TGC INDIA?
TGC India is a leading Graphics and Animation Institute in Delhi with branches across the country. Among the numerous high level courses it offers is the Adv. Certification in 3D Rendering.
It provides an educational environment that houses both local and foreign students who share ideas to develop their visual communication skills.
It boasts of well trained and highly experienced staff who are both friendly and courteous and ready to train using Live projects and the interactive learning system whose benefits outweigh online tutorials or self help books.
The Adv. Certification in 3D Rendering Course  with TGC is also affiliated with the Mahatma Gandhi University and  Punjab Technical University. Take a VFX course with TGC India today.
Similar Courses
Upcoming Batches:
Course Reviews
No Reviews found for this course.