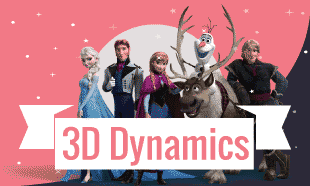 Instructors
Adv. Certification in 3D Dynamics
Adv. Certification in 3D Dynamics
INTRODUCTION
Adv. Certification in 3D Dynamics course provides it's students all the fundamental skills need in both rigid and soft body simulation effects to meet the ever growing demand of the  Multimedia Industry
OBJECTIVE
This course aims to train it's student on how to create internationally standard effects with rigid bodies and soft bodies.
COURSE OUTLINE OF Adv. Certification in 3D Dynamics:
Introduction to Dynamics
Introduction to Maya Paint Effects
nCloth Techniques
Fire , sparks , smoke
Muscles
Oceans
Particles
Fluids
COURSE BREAKDOWN of Adv. Certification in 3D Dynamics:
MODULE 1
Introduction to Dynamics
Basics of Dynamics
Emitting particles in Explosion
Emitting particles in Precipitation
Use fields to affect particles
Particle render
Exploring soft bodies
Baking simulations
Caching
Introduction to Effects
Introduction to Render type
Introduction to Fields
Introduction to fluids
Soft body simulation
Introduction to Fluid effects
Particle Collisions
MODULE 2
Introduction to Maya Paint Effects
User Interface for Paint Effects
Paint Effect tools
Pressure Mapping
Brush Settings
Cycle Animations
Pressure Curves
Mesh Settings and Mesh Environment
Shading Attributes
Texture settings
Spiral and Bend Attributes
MODULE 3
Cloth Techniques
Cloth properties
Adding ncloth to Materials
Cloth Property Modifications
Custom ncloth Presets
MODULE 4
Fire , sparks and smoke
Particles using emitters
Sparks
Render particles
Smoke
Shading Networks
Fire ,spark and smoke composition
MODULE 5
Muscles
Biceps
Upper Arm Volume
The flexi chain
Twist rig
Joints as Influences
Adding custom Muscles
Adding jiggle Effect to Muscle
Complete Muscle set up rig
MODULE 6
Oceans
Ocean Attributes
Ocean Shader (color, bump blur, horizon filter, foam, wave peaking, wave turbulence, wave Height, Num Frequency)
Advanced controls
MODULE 7
Particles
Primer to nparticles
Nucleus Forces
Nucleus Collison Attributes
nParticles and Fields
nparticles to Output Mesh
Liquid Interaction
Randoming Particle Size
Collision Layers
Per –particle Expressions
Per Point emission rates
Fireworks
Spiral Motion
Simulation Caching
MODULE 8
Fluids
Fluid and Field interaction
Container properties
Fluid and particle Interaction
Fluid Attributes
Rendering Fluids with other Layers
Heat Dynamics
Liquid simulation
Soft surfaces
Blood effects
Blood mist
Blood Squib
BY THE END OF THE 3D Dynamics  COURSE,  STUDENTS WOULD BE ABLE TO USE
To create visual effects for commercials, feature films, documentary, educational materials and  Music Videos
To create production simulations for education purposes
CAREER OPTIONS AFTER Adv. Certification in 3D Dynamics:
Students who complete this course have the following career options
VFX artist
3D Virtual Reality Artist
Video Editor
FX supervisor
3D Dynamics Tutor
Multimedia Artist
Production Artist
3D stunts Supervisor

[cp_popup display="inline" style_id="9129″ step_id = "1"][/cp_popup]
WHY TGC INDIA?
TGC India is a leading Graphics and Animation Institute in Delhi with branches across the country. Among the numerous high level courses it offers is the 3D Dynamics  course. It provides an educational environment that houses both local and foreign students who share ideas to develop their visual communication skills. It boasts of well trained and highly experienced staff who are both friendly and courteous and ready to train using Live projects and the interactive learning system whose benefits outweigh online tutorials or self help books. Take a 3D Dynamics  course with TGC India today.
Upcoming Batches:
Course Reviews
No Reviews found for this course.