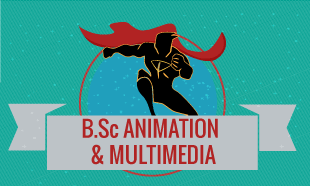 Instructors
BSc in Animation & Multimedia
BSc in Animation & Multimedia
INTRODUCTION
TGC in association with leading UGC approved university conducting 3 years university programme in Animation and Multimedia. This degree course in advanced animation is ideal for students passed out 10+2 and willing to make a career in animation, multimedia and in visual effects industry. TGC India is a well-known BSc animation college in Delhi and trained hundreds of students those who completed the course successfully.
This degree Course covers all the aspects of digital media learning i.e Graphic Design, interactive design, 2D and 3D Animation, Visual Fx, Photography, Audio, and Video editing training. Being the best BSc Animation College in Delhi, TGC is in its 18th year and got a proven track record of conducting courses with a high reputation all through. TGC, One of the oldest institutes with a definite placement cell has provided jobs to thousands of students in Delhi, other parts of India and abroad as well. In our degree programme, we assure students an internship in the last semester. TGC has undoubtedly the best faculty in India for animation and multimedia courses.
Trust us as one of the more established names Web Designing Course, TGC has trained more than 16000+ students in the last 18 years. We are the favorite BSc Animation College in Delhi among the students. We also enroll international students.
B.Sc. The degree program in Animation and Multimedia
Students pursuing B.Sc. in Animation and Multimedia goes through extensive learning which begins with learning concepts of design from basics and excel further towards all the latest happening in the industry. A typical day at TGC includes daily classroom sessions, Concept sessions, Computer labs, Sketching and Drawing sessions, Studio sessions, and interaction with our guest trainers visiting the campus quite regularly. Students also exposed to live projects during the training as Digital Yatra one of the business concerns of TGC takes live projects in digital design services. Live projects include Advertising design training, movie making, music production assignments, and Live shoots.

Our endeavor remains to invite the industry's leading art directors, visualizers, and professionals animators as Portfolio faculty to help students compiling work in the most requisite form of presentation, as we know every student is important and unique, our placement cell work diligently with students and help them prepare for interviews, assist them creating fascinating online profiles and eventually getting each of them placed with top-notch production studios. You will get all kinds of help from us because we are leading as best BSc Animation College in Delhi.
WHY TGC INDIA?
At TGC, We have an excellent and clean record of placements. We also have been rated 4.8/5 by our students for their satisfaction quotients. We invite you to visit our centers for more details on B.Sc Degree in Animation and Multimedia.
Upcoming Batches:
---