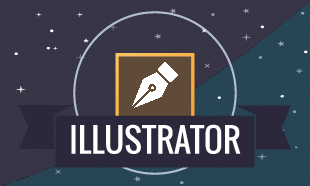 Instructors
Advanced Certification In Adobe Illustrator Course
Advanced Certification In Adobe Illustrator Course
INTRODUCTION OF ILLUSTRATOR TRAINING INSTITUTE
Adobe Illustrator CC is a  Vector program that is used ubiquitously in the world of Design and  Print. Adobe Illustrator CC is the latest versions of the software present on the Market with Creative Clouds facilities. TGC India is a leading institute for Adobe Illustrator.
OBJECTIVE
An Adobe Illustrator course that would teach it's students all the tools and functionality of the adobe Illustrator software in order to use it for designing . Student will be able to learn Illustrator at expert level skills by learning this application.
COURSE OUTLINE
Introduction to Adobe Illustrator Interface
Introduction to Design
Use of Adobe Illustrator for Illustration
Use of Adobe Illustrator for Graphic Design
Use of Adobe Illustrator in Design Pipeline.
COURSE BREAKDOWN
MODULE 1
Introduction to Adobe Illustrator Interface
Working with Artboards
Drawing shapes and Lines
Applying Color
Working with shape builder
Working with width tool
Creating and Editing Gradients
Placing Adobe Photoshop Images in Illustrator
Using Image Trace
Working with the color guide panel
Creating and applying a pattern
Working with type
Working with drawing modes
Working with brushes
Using the appearance panel and effects
Working with Strokes
Aligning Content
Working with Perspective
Working with Symbols
MODULE 2
High end Design techniques in Illustrator
Design manipulation and creation.
Advanced vector design in Illustrator
MODULE 3
Use of Adobe Illustrator for Illustration
Understanding Perspective Drawing in Illustrator
Creating Narrative Illustrations in Illustrator
Inking Comic Art in Illustrator
Creating Film Noir styled artwork in Illustrator
Creation and Integration of a display font in Illustrator
Designing Infographics in Illustrator
Creating Custome Patterns in Illustrator
Creative Narrative Illustrations In Illustrator
Painting Skateboard Graphics in Illustrator
Creating Photo Inspired Vector Artwork in Illustrator
Gradient Meshes
Character integration with logo
Ornate Logo Type creation In illustrator
Perspective Drawing in Illustrator
MODULE 4
Use of Adobe Illustrator for Graphic Design
Typography
Professional Logo Design
Display font creation and integration
Logo, Identity and Brand
Stationary Packages creation
Menu Creation
Visual Communication and Graphic Design Essentials
Product packaging
Designing Color T-shirts
Creating Graphs in Illustrator
MODULE 5
Use of Adobe Illustrator in Design Pipeline.
Working with Adobe Bridge
Combining Artwork
Exporting files to Adobe Photoshop
Preparing  a Vector Logo for Animation
Course Outcome
For vector graphics  e.g Logo Design and identity design.
For Graphic design such as comic creation and story boarding
For Print design-Brochure, Catalogue, Annual Books, Newsletter
For Web Design- Minimal and flat web templates, web components like buttons, stickers, icons etc.
SOFTWARE COVERED
ADOBE Illustrator CC 2015
CAREER OPTIONS AFTER COURSE
Students who complete this course have the following career options
Graphic Designer
Graphic Tutors
Compositing Editor
Industrial Designer
Web Designer
Fashion Designer
WHY TGC?
TGC India is a leading Graphics and Animation Institute in Delhi with branches across the country. Among the numerous high-level courses, it offers is the Adobe Illustrator CC course. It provides an educational environment that houses both local and foreign students who share ideas to develop their visual communication skills. It boasts of well trained and highly experienced staff who are both friendly and courteous and ready to train using Live projects and the interactive learning system whose benefits outweigh online tutorials or self-help books. Take an Best ADOBE illustrator Training with TGC India today.
[cp_popup display="inline" style_id="9024″ step_id = "1"][/cp_popup]
Upcoming Batches:
---
Course Reviews
No Reviews found for this course.