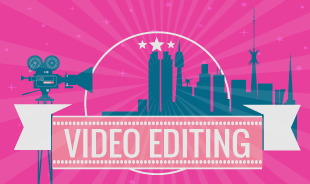 Instructors
Video Editing Course in Delhi
Video Editing Course in Delhi
INTRODUCTION OF BEST VIDEO EDITING COURSE IN DELHI
The Advanced Certification Course in Audio / Video Editing & Composting is a video editing Training Institute  in Delhi offered by TGC India, a reputable name in Video Editing courses. This course was created about 10 years ago and its syllabus has been constantly updated to reflect the new trends in audio and video editing and compositing. This course is targeted at Students who want to build a career in video editing for television programs, films, documentaries and work in leading video editing companies across the country.
OBJECTIVE
The Main objective of this video editing course is to produce internationally standard video editors that would be able to work anywhere in the world as video editors and compositors either as a freelance video editor or with a video editing studio. This course uses the most popular software in teaching both video and audio editing to increase the student's employ ability with a flexible schedule laced with team projects, seminars, assignments and portfolio development. The Advanced Certification course in Audio/Video Editing and compositing is a 100% practical course.
VIDEO EDITING COURSE OUTLINE
This Video Editing courses is broken down into five modules and would last a total of 12 months. These Modules include.
Broadcast Design
Non-Linear editing
3D compositing
Media Management
Sound compositing
Visual Effects
Sync Sound with Video.
Portfolio and Placement.
Our Video Editing Courses are relatively more comprehensive and detailed than most other courses.

Download our Brochure for a sneak peek
NOTE: At the end of this course.  Video editing Projects would be carried out by students as group classwork and team projects. These projects would be assessed by industry experts as well as professionals that carry out some form of video editing service.
Projects Examples include
Logo Animation and Montage for television shows
Video Editing and effects incorporation for television shows
3D Composition
Music Video Production
Film Editing and color correction.
After this course, students would be able to work as
Film Compositors
Motion Graphic Artists
Broadcast Designers
Advanced Certification in Audio/ Video Editing Course & Composting In Delhi
TGC India is any student's best available choice in Delhi, India. TGC India combines a practical classroom training for Audio Video Editing Course in South Delhi alongside self-development motivation to ensure that each student's natural creative abilities are completely harnessed and targeted for employment or skill development.
TGC India employs trainers with practical industry experience as against educators in other editing. This creates a good opportunity for placements due to industry networking as well as skill development.
WHY TGC INDIA?
TGC India has been in the training business for over 13 years now and has a remarkable alumni success rate which has kept the institute excelling continuously. TGC India is the Best video editing institute in Delhi that prides itself with the fact that it has successfully placed students in Television Stations, Major Corporations, commercial as well as an individual business. Enroll now for a comprehensive  Training.
There are several reasons why you should consider learning a video editing course from TGC India. Here are a few key points:
1. Experienced Faculty: TGC India has a team of highly experienced instructors who have extensive knowledge and expertise in the field of video editing. Our practical industry experience allows them to provide valuable insights and guidance throughout the course.
2. Comprehensive Curriculum: The video editing courses offered by TGC India cover a wide range of topics, ensuring that you receive a comprehensive understanding of video editing techniques and software. From basic editing skills to advanced post-production techniques, the curriculum is designed to equip you with the necessary skills for professional video editing.
3. Hands-on Training: TGC India emphasizes practical learning, providing hands-on training with industry-standard software and equipment. You will have access to the latest tools and technology used in the industry, allowing you to develop proficiency and confidence in your editing skills.
4. Industry Relevance: The courses at TGC India are designed to align with industry standards and trends. You will learn the techniques and practices that are currently used in the professional video editing industry, ensuring that you stay up to date with the latest advancements.
5. Project-based Approach: TGC India focuses on a project-based learning approach, allowing you to work on real-world assignments and projects. This practical experience enables you to build a strong portfolio that showcases your skills and increases your employability.
6. Job Placement Assistance: TGC India provides job placement assistance to its students. we have a dedicated placement cell that helps connect students with potential employers and job opportunities in the industry. This support can be invaluable in starting your career as a video editor.
7. Flexible Learning Options: TGC India offers flexible learning options, including both classroom-based and online courses. This allows you to choose a learning format that suits your schedule and preferences.
TGC India offers a compelling package for aspiring video editors, including experienced faculty, comprehensive curriculum, hands-on training, industry relevance, project-based learning, job placement assistance, and flexible learning options. By enrolling our video editing course, you can gain the skills and knowledge necessary to excel in the field of video editing and pursue a successful career.
Career option after Video editing course
Video Editor: With your newly acquired video editing skills, you can work as a professional video editor. You can find employment opportunities in various industries such as film and television production, advertising, media agencies, corporate organizations, and online content platforms. As a video editor, you will be responsible for editing raw footage, adding special effects, sound design, and creating a final polished product.
Freelance Video Editor: Many video editors choose to work as freelancers, offering their services on a project basis. Freelancing allows you to work on a variety of projects, collaborate with different clients, and have more flexibility in your schedule. You can find freelance opportunities through online platforms, networking, or by building your own client base.
Motion Graphics Designer: If you have a knack for creating visually appealing and dynamic motion graphics, you can explore a career as a motion graphics designer. Motion graphics are widely used in advertising, film and television, gaming, and online content. As a motion graphics designer, you will be responsible for creating animated graphics, title sequences, visual effects, and other dynamic elements to enhance video content.
Video Post-production Specialist: Video post-production involves various aspects such as color grading, visual effects, audio mixing, and finalizing the overall look and feel of a video. By specializing in specific areas of post-production, you can work as a colorist, visual effects artist, or sound designer. These roles are crucial in enhancing the quality and impact of the final video.
Content Creator: With the rise of digital platforms and social media, there is a growing demand for content creators who can produce engaging videos for online audiences. By combining your video editing skills with storytelling and creativity, you can create your own video content for platforms like YouTube, Instagram, or TikTok. This avenue allows you to have creative freedom and build your personal brand.
Video Production Assistant: Starting as a video production assistant can provide valuable industry experience and networking opportunities. In this role, you will assist with various tasks such as organizing footage, managing equipment, coordinating shoots, and providing support to the production team. It can be a stepping stone towards advancing your career in video editing or other production roles.
Frequently Ask Question – Video Editing Course
A) Is this a practical course or only theory is being covered?
TGC Video editing course is a 100% practical course, even concepts of editing principles are also being covered in a practical manner. Students take day to day sessions of Video editing's two major aspects Editing and Compositing in a real-time environment. TGC also serves as a finishing school for many of the Mass communication and Fim college where digital aspects of learning are limited or just theory is being covered.
B) What is the eligibility of Trainers, teaching Video Editing at TGC?
We have a pool of Video editors and post-production artists constituting an Editing Faculty, Most of our trainers are qualified to design graduates or coming from a solid working experience in the video editing industry. We also appoint industry specialists and who's who as "Guest Trainers" delivering lectures on scriptwriting for film, shooting a video, acting for films, VFX, and how to make final showreel etc.
C) Is this course available in both classroom and instructor-led online training mode?
Yes! Our Classroom mode course is available at our various centres in Delhi, Jaipur and elsewhere in India, whereas we are also one of the leading training providers of Video editing training in an instructor-led arrangement, we do not conduct recorded sessions like youtube or udemy. At TGC, students can interact with trainers and class coordinators anytime during the learning and after it as well to ask questions and solve their queries. We deliver our online classes either through Zoom or MS Teams platform. All our instructors are top-notch experienced editors and post-production artists from Indian origin. We also provide IT managers during online learning to solve any of the unexpected network glitches.
D) Is this course available on both Weekdays and Weekends?
Yes, most of the courses either classroom or online mode are available in both weekdays and weekends mode. Weekdays courses are available from Mon-Fri whereas Weekends mode are either Sat-Sun or only on Sundays based on student's own convenience.
E) Can I take a free demo class before I join a course in Video editing?
Yes! Students have the option of attending 2 free demo classes before they choose to join a course. Students may interact with trainers and students during these demo classes, also they can have a fair look on the syllabus and delivery methods during these demo sessions.
F) How to compare TGC with other institutes, while I decide to join this course in Video editing?
Almost 20 years old institute, the legacy of 15000+ passed out students and unmatched placement record always makes us distinct from others, but if that is not enough, other reasons include small batch sizes, personalised learning, experienced and qualified trainers in design, 4.8/ 5 google reviews makes us an institute with a difference. Call us and know the salient points about our video editing course at TGC.
G) Does the institute provide video editing training on Mac or Windows systems? should I need to bring my own laptop or will the institute be able to provide me with a machine for practice?
We do provide editing classes both on Mac and Windows platforms, we have enough no. of Apple's Mac systems and Windows systems Each student is being allotted time for practice, for which system will be provided by the institute. students are also allowed to bring their own laptops as we provide them with free wi-fi.
Will I be given Placement assistance from TGC?
Yes, at TGC we have our own placement liasoning cell, Placement cell helps students in creating an eye-catching portfolio, developing an awesome profile, uploading works on various channels, helping students to equip with mock interviews etc., coordinating with various companies for fresh recruitments, arranging interviews and finally getting students to succeed with a placement offer.
For bright students, we also have an assured paid internship offer.
Related Courses 
Upcoming Batches:
---