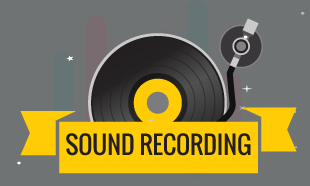 Instructors
Advance Certification in Sound Recording
Advance Certification in Sound Recording
INTRODUCTION TO Advance Certification in Sound Recording
The best example of the audio-visual industry is media. Visuals are given a soul by sound. Music and dialogues add more spark to the content bringing out the emotions in a more deliberate and explicit manner. This helps the narration of a particular story or telecasting a Advance Certification in Sound Recording course an impression on audiences' hearts. Sound depicts most intimate attachments with the reality through abstract, and a sensitive perception. Sound and Picture are the cause of pure magic of Cinema.
Objective:
Students will be taught of both technology and creativity in well-equipped classrooms under the guidance of skilled and trained faculties, to help in queries and promote positive interactions and ideas.
Course Outline:
There are many aspects of sounds. 'Sound Recording Courses'focus on teaching students how to record chains and sounds, learn the basics of acoustics, psychoacoustics, loudspeakers, microphones, mixers, signal processors and calibration of units to pre-play and post play.
Practical classes and studio sessions will be a part of the course to have an elaborate understanding of the entire concept. You get to work upon Analog Console in which students explore great opportunities to explore and comprehend the basic formation and structure of flow of the signals.
It helps them understand how quickly a sound can respond to tweak knobs, and also, the insertion of dynamic effects. In Digital Console, you will explore the tactics of managing connectivity and sound applications. Functional advantages of installed sounds, settings of inputs and outputs and flexibility of tuning etc. can be leaned under this category.
Mixing techniques and audio post-production techniques will help you learn multi-miking, stereo effects, preliminary steps in audio recordings, analyzing the characteristics and experimenting new techniques, realizing the original and fake audios, fault finding and increasing the quality and performance characteristics of audio clips.
Course Outcome:
Final Project involves studying of track routings, basing on analog systems, learning the commands of pro tools and Nuendo and mastering their techniques. It helps you gain proficiency in Digital Audio Technology. It also grooms you with the knowledge of life experiences in radio stations and recording techniques using a visit to fields.
Technologies Used:
Different technologies like digitization, formatting, editing are used. Guest lectures are organized as part of the program to make you clarify your doubts with expertise and understand skills of recordings.
Career Scope:
There is a great scope in this domain, in various industries. You can work with many reputed organizational firms, and also, start with your own studios. You can work as a tutor at colleges and schools of music.


[cp_popup display="inline" style_id="9166″ step_id = "1"][/cp_popup]
WHY TGC:
TGC helps in bringing out the confidence in students with its extensive classroom programs, guidance from the experienced faculties and well-maintained library and other facilities. It has an affiliation to a known university and certifies you with the course completion approval. It also provides with hygienic facilities like drinking water and restrooms.
For more details on Sound Recording Courses, kindly contact us.
Similar Courses
Upcoming Batches:
Course Reviews
No Reviews found for this course.