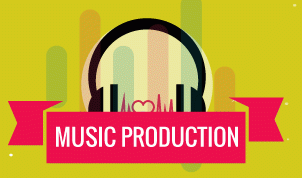 Instructors
Adv. Certification Course in Digital Music Production
Adv. Certification Course in Digital Music Production
INTRODUCTION
Music is the soul of human life. It pacifies you defining your emotions and makes you feel rejuvenated. Professionalism in music is growing day by day. 'Music Production Course' offer you the making of your own contemporary music with some of the tools available on your Personal Computer. It basically deals with editing, mixing and recording processes. Any form of the music can be produced with the proper blend and essence of creativity, hard work, and knowledge. Each class of this session will help you acquire the knowledge of different sets of tools that produce music, nature of sound, imprints of flawless performances, time management etc.
Objective:
Digital Audio Workstation (DAW) is the editing tool of the contemporary music that stores and manages all the projects of the music. After editing, comes in the part where mixing is done. In this section, two or more sounds are mixed with the basic functionality of hardware and software mixing boards, and then, placed at appropriate spacing with fine creativity. The major tool- Synthesizer will be studied, which is the heart and soul of contemporary music.
Course Outline:
Managing propagation, microphones, frequencies, connections etc with the flow of Sound and Signal
Buffering, Analog to Digital Conversion, Zooming, Merging, naming and Coloring etc with the help of Digital audio Workstation
Stripping of the channel, sub mixing, automating, category insertion through mixer
Manipulation of dynamic range, compressor, limiter, noise, distortion etc. with the help of Dynamic Effects.
Use of Filter and Delay effects to give delays, manage width and spacing while mixing, overview of the filter and equalizers and many more.
Amplifiers, Low frequency oscillators and Language of Timbre for the purpose of synthesis.
Exporting and creating of MP3 file, adding software and audio effects creating audio tracks should be performed in the suitable and advisable background of Digital Audio Workstation.
Course Outcome:
The formatting of the course usually comprises of demonstrations of videos, quizzes that include applying your knowledge before taking a step ahead. You will be given with regulated assignments to bring out the best in you.
Technologies Used:
Various technologies are used to tackle videos, dynamic effects, creating audio files etc. Different technologies related to this course are studied so that you can become proficient regarding minute detailing in the audio formatting. Different technologies of spacing, width etc. are mastered with fine skills.
Career Scope:
This course has a great scope in media industries, studio recordings etc. in any part of the country. You can even work as a freelancer.  You can even opt for home tutorials. You can start up with your own studio.

Why TGC?:
TGC offers you with the best music production course that help in bringing the best in you. Our labs are well equipped with all the necessary music production hardware and software, that includes analog mixers, high end studio monitors, advanced sound cards, advanced level headphones, recording mic and accessories. Our studio is accousticly sound proof and ideal for recording sound inhouse, students are allowed to stay back after the classes for practice sessions,  You will receive training from well trained faculty that will guide you throughout the course. It provides you with proper infrastructure and facilities. Hygiene is maintained in the campus. Students are more confident and possess outgoing personality.
Kindly contact us to know more details on Music Production Courses.
Similar Courses
Upcoming Batches:
---
Course Reviews
No Reviews found for this course.