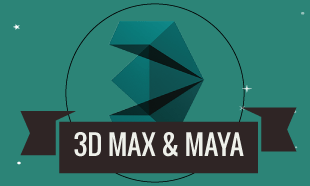 Instructors
Best Autodesk Maya & 3Ds Max Institute In Delhi
Best Autodesk Maya & 3Ds Max Institute In Delhi
Read this article till the end. know every thing about Best Autodesk Maya & 3Ds Max Institute In Delhi
INTRODUCTION OF  MAYA  & 3Ds Max COURSE
3D max is the file format, which is used for 3D modeling and animation. Autodesk 3D Studio used 2D Max as its native form. It is basically a standard used to transfer models from 3D programs.
It is used to store catalogs of resources of programs stored in 3D. It is in the binary file format. The format is segmented in chunks. In this section, embedded data is bifurcated in the blocks containing identifiers of the chunks and data length. Autodesk Maya is software used for the animation of 3D images.
It delivers creative workflow, which is an end to end, which uses animation tools that are comprehensive, compatible with simulation, modeling, rendering, visual effects, compositing and match moving.
Objective: of Maya & 3Ds Max Training
The purpose of the course is to offer unification of the art tool's sets and affordable single design to match today's requirements of the production. The objective is to offer a variety of learning processes through integrated intermediate or advanced level courses.
Course Outline:
The course covers up the topics like-
Introduction to the training course and professional skills used for the intermediate program.
It teaches about the improvisation of the current skills and marketability available. You will also study motion graphics in which topics like advanced lighting, layering, transitions, effects and texturing are covered.
In the segment of character animation, topics clothing, hair, skinning, rigging, facial and body animations are penned down.
Advanced modeling teaches you about the concepts that are used in modeling which are organic, inorganic, box and patch. It also teaches you about the mental Ray and NURBS.
Course outcome:
On its completion, learners will have the complete knowledge about the coloring, transitions, textures, various kinds of models and professional skills. They will be efficient in developing the work habits even in the pressurized work environment.
Technologies Used:
Technologies like rendering, light blending, and color blending, project-oriented workshops, creating realistic photos, material and modeling adjustments etc are used to give the proper justification to the work. All these technologies are very important sciences that help you achieve perfection in your work.
Career Scope:
Mastering this course will help students explore new and various opportunities in the world of animations. They will have the chances to be placed with gaming institutes, media houses, production teams etc. You can also work as an instructor in schools or colleges. This course offers you global opportunities. You can work with the best firms and companies as well as the studios available in any part of the country.

[cp_popup display="inline" style_id="9138″ step_id = "1"][/cp_popup]
WHY TGC IS Best Autodesk Maya & 3Ds Max Institute In Delhi:
TGC is one of the best  Best Autodesk Maya & 3Ds Max Institute In Delhi,  that offer you a very good infrastructure and well-maintained amenities. It has properly equipped classrooms. Faculties available in TGC are well trained with an experience of not less than 5-7 years. They will help you understand the concept with ease and develop the confidence to achieve success. TGC offers you with clean drinking water and refreshment facilities too.
For more information of 3D Max and Maya training course, kindly contact our representative.
Upcoming Batches:
Course Reviews
No Reviews found for this course.