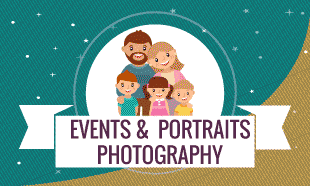 Instructors
Adv. Certification in Events and Portraits Photography
Adv. Certification in Events and Portraits Photography
INTRODUCTION
Events and Portraits Photography is a branch of photography that deals with the photo documenting an event as well as taking pictures that are poised for intended to be used by the end users who have requested to be taken in the photographs.
OBJECTIVE
The Events and Portraits Photography course would teach students how to cover events and take preplanned photos of guests and hosts at events such as weddings, birthdays, parties and picnics
COURSE OUTLINE
The basics of Photography
Cameras and Camera settings
Natural light photography
Artificial light photography
Photo capture set up
Picture Framing and composition
Tips and tricks for events photography
Picture Processing with Adobe Photoshop
COURSE BREAKDOWN
MODULE 1
The basics of Photography
Understanding the basics of digital photography
The difference between all the major branches of photography
File types (RAW and JPEG)
White balance
The exposure triangle – Aperture, shutter speed and ISO
MODULE 2
Cameras and Camera settings
Digital Cameras
Lenses and Focal Lengths
Tripods and Accessories
Camera Modes- Auto mode, aperture priority and shutter priority
MODULE 3
Natural light photography
Hard Light vs Soft light
Diffusers and Reflectors
Natural light sources
Use of light in storytelling
Front, back and side lights
MODULE 4
Artificial light photography
Lighting Modifiers and Accessories
Lighting gear and studio lighting kits
Equipment setups- Studio lights and umbrellas
Remote Flash and Radio Wave
Standing Light and softboxes
MODULE 5
Photo capture set up
Photography work area establishment
Photo background selection
Shot Plan
Scene Creation
Use of props, backgrounds, surfaces and linens
MODULE 6
Picture Framing and composition
Model Placement and pose setting
Rule of Thirds
Focus
Depth of Field
Perspective and Angle
Focal length, Lens compression and depth of field
Shapes , lines and colors
MODULE 7
Tips and tricks for events photography
Documenting the ceremony
Staging the portraits pictures
Preparing photos for photo manipulations
Capturing candid moments
MODULE 8
Picture Processing with Adobe Photoshop
Color corrections and image adjustments
Color space
Photo manipulation and photo effects
Tricks and tips used in Adobe Photoshop for events photo editing
Backup and storage
Making a digital photo album file.
BY THE END OF THE Events and portraits Photography COURSE, STUDENTS WOULD BE ABLE TO
Take pictures for event photo albums.
SOFTWARE/ MATERIALS USED
Adobe Photoshop
A DSLR Camera
CAREER OPTIONS AFTER COURSE
Students who complete this course have the following career options
Wedding Photographer
Event photographer
WHY TGC INDIA?
TGC India is a leading Graphics and Animation Institute in Delhi with branches across the country. The Events and portraits Photography course is a purely practical course with team projects, seminars, workshops, and showreel development. Individual mentorship during and after the course is also available. TGC India has highly efficient, intelligent and vast staff. TGC India has been organizing Multimedia Training for both degree and short-term programs for upwards of 10 years and has a large number of alumni presently working in the Multimedia Industry all across Asia and Africa.
Training Partner

---
School of Photography leading Photography Training Institute
Upcoming Batches: