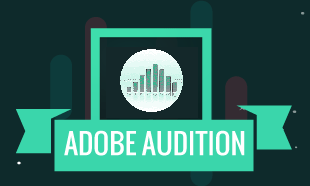 Instructors
Advanced Adobe Audition Training
Advanced Adobe Audition Training
Advanced Adobe Audition Training
Advanced Certification in Adobe Audition is a digital audio workstation from Adobe systems.
OBJECTIVE of Advanced Adobe Audition Training
The Adobe Audition Course would teach students how to effectively carry out audio editing for the production of audio tracks, audio of films and television programs
COURSE OUTLINE OF Advanced Certification in Adobe Audition
Introduction to Adobe Audition
Basic Editing and Signal Processing
Audio Restoration and Mastering
Sound Design
Multi Track Editor
Clips Editing and Music Creation from sound libraries
Automation
Mixing
COURSE BREAKDOWN
MODULE 1
Introduction to Adobe Audition
The Adobe Audio Audition Interface Basics
The Mac OS x Audio setup
The windows audio setup
Testing the inputs and outputs
Using external interfaces with adobe audition
Audition Dual Personality
The audition workspace
Navigation on the Audition Workspace
MODULE 2
Basic Editing and Signal Processing
Preparing file for editing
Selecting a region for editing and changing it's level
Cutting ,deleting and pasting audio regions
Cutting and pasting with multiple selections
Simultaneous mixing and pasting
Repeating part of a waveform to create a loop
Fading regions to reduce artifacts
Effects basics
Using the effects rack
Amplitude and compression effects
Delay and echo effects
Modulation Effects
Noise Reduction /Restoration
Reverb effects
Special Effects
Stereo Imagery effects
Time and Pitch effect
Third Party effects
Using the Effects Menu
Managing Presets
MODULE 3
Audio Restoration and Mastering
Audio restoration
Reducing hiss
Reducing clicks
Reducing noise
Removing artifacts
Alternate click removal
Creative removal
Mastering
Equalization
Dynamics
Ambience
Stereo Imaging
MODULE 4
Sound Design
Creating rain sounds
Creating a babbling brook
Creating insects at night
Creating an alien choir
Creating sci fi machine effects
Creating an alien drone flyby
MODULE 5
Multi Track Editor
Recording into the waveform editor
Recording into the multi track editor
Drag and drop into an Audition Editor
Multitrack Production
Multi track and Waveform Editor integration
Looped Playback
Track Controls
Channel Mapping in the Multi track Editor
Side Chaining effects
Mixer view
MODULE 6
Clips Editing and Music Creation from sound libraries
Creating a continuous Music mix using Cross fading
Mixing of clips
Editing for length
Clip edits, split, trim and volume
Extending a clip via looping
Building a rhythm track
Adding percussion
Adding melodic elements
Using loops with different pitch and tempo
Adding processing
Setting up the metronome
Recording a part in a track
Recording an additional part
Punching in
Composite recording
MODULE 7
Automation
Clip Automation
Track Automation
MODULE 8
Mixing
Mixing Process
Exporting a stereo Mix of a song
Scoring audio to video
Using markers to create hit points
Building the soundtrack
Adding hits to the marker location points
Automatic Speech Alignment
BY THE END OF THE Adobe Audition COURSE, STUDENTS WOULD BE ABLE TO
Edit raw audio recordings for music tracks, films and television
Create sound effects for all multimedia projects
SOFTWARE/ PROGRAMMING LANGUAGE COVERED
CAREER OPTIONS AFTER Advanced Adobe Audition Training
Students who complete this course have the following career options
Music production Artist
Sound production Artist

[cp_popup display="inline" style_id="9163″ step_id = "1"][/cp_popup]
WHY TGC INDIA?
TGC India is a leading Graphics and Animation Institute in Delhi with branches across the country. The Adobe Audition Course has a 100% job placement guarantee. TGC India has highly efficient, intelligent and vast staff . TGC India has been organizing Multimedia Training for both degree and short term programs for upwards of 10 years and have a large number of alumni presently working in the Multimedia Industry all across Asia and Africa.
Similar Courses
Upcoming Batches:
---
Course Reviews
No Reviews found for this course.