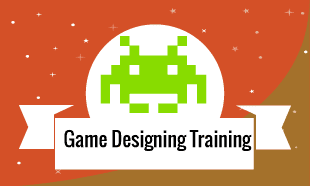 Instructors
Adv. Certification Course in Game Designing
Adv. Certification Course in Game Designing
INTRODUCTION
learn about Adv. Certification Course in Game Designing. In this Articleyou'll know every benefitial thing about Game designing course .
Video games grab your attention providing you with not only sheer entertainment, but also educational source, enrichment of culture, and a platform to have social interaction. In the design field of gaming, there is no limit to the potential of storytelling, entertainment, and information.
Virtual world with the blend of interactive environments that promote interactions have touched almost each and every part of our life right from the video games we play to phones we use.
Hands-on proper concepts of game designing get your career started with a complete boom as it concentrates on the study of developing digital content, which is rich in information and media compatible.
Objective of Adv. Certification Course in Game Designing:
The very own objective of the course is to train the digital artists and designers who are planning on seeking a career in game designing and industries related to the game production. It targets fetching distinctive platforms such as Personal Computers, Game Consoles, and Mobile Phones.
Course Outline of Adv. Certification Course in Game Designing:
The syllabus of Adv. Certification Course in Game Designing  focuses on covering up the topics like-
Introduction to Photoshop and Flash- It includes the knowledge of creating textures, posters, model sheets, tools, pixel arts, portfolios etc.
Pre Visualization- It includes the exploring of perspectives, volumes, characters, and designs of the games and sets, the study of human figures, props, and costumes for the images etc.
Media Production- It includes fundamentals of gaming, designing board games, challenges, documents etc. It also makes you learn the prototyping of games, and playtesting.
Digital Media Techniques- It includes the selection of appropriate props, topologies, and models. Makes you develop the understanding level of implementation of appropriate backgrounds, facial expressions of the images, packaging, exporting to unreal etc.
Course Outcome:
When you are finished with the Adv. Certification Course in Game Designing, you will be able to understand the minute elements, and detailing of the game designing. You will have appropriate knowledge of the application of proper frames, colors, backgrounds etc in the visual creation.
Technologies Used for Adv. Certification Course in Game Designing:
Game Designing uses various technologies, which comprise of set up of Biped and Quadruped, deformations, facial and vehicle rigging, trax editor, key binding etc.
Career Scope:
Game Designing is a domain, which is compatible with almost all the industries. You can explore a large number of opportunities to shape up your career. You can work as a freelancer also in this domain wherein you have to submit the completed projects within given deadlines sitting at home.


[cp_popup display="inline" style_id="9123″ step_id = "1"][/cp_popup]
Why TGC:
You are preferred to choose TGC because of its trained faculties, well built amenities, and infrastructure. It helps you with various placement opportunities.
Kindly contact our representative for more details on the Game Designing courses.
Upcoming Batches:
Course Reviews
No Reviews found for this course.