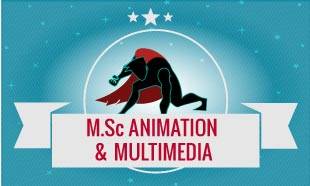 Instructors
MSc in Animation & Multimedia
MSc in Animation & Multimedia
INTRODUCTION
The integrated M.Sc in Animation and Multimedia course is an offering of TGC India, intended for college graduates who want to further their studies in the area of animation and multimedia. This course teaches the application of Animation in the digital media industry of entertainment, content, web and gaming industry. After successful completion of the course, students would be awarded an M.Sc in Animation and Multimedia. The course is being affiliated by Karnataka State Open University. The approach of the course is 100% practical conducted at TGC India centers while the affiliate university would be responsible for examinations and certificate issuance.
OBJECTIVE
The integrated M.Sc in animation and multimedia course was created for the sole purpose of providing a Multimedia and Entertainment industry targeted animation training for university and college graduates. It is intended to teach the students the animation skills required for the multimedia industry in a practical environment while still having the feel and benefits of a traditional and conventional education, offering the students the best of both worlds.
ANIMATION AND MULTIMEDIA COURSE OUTLINE
The M.Sc in animation and Multimedia is divided into four semesters and the full course lasts for 2 years.
Scriptwriting and storyboard designing, desktop publishing and digital art photography
2D animation, 3D Modeling, and Animation
Visual Effects, Audio, and Video Editing
Interactive Media Creation
A written and practical exam would be conducted after every semester and a final project would be submitted after which the M.Sc in Animation and Multimedia course would then be issued.

For the complete course syllabus,


[cp_popup display="inline" style_id="9110″ step_id = "1"][/cp_popup]
NOTE: At the end of this course. Projects would be made by teams and this project would include
Short 3D animation film
Interactive content creation
Broadcast design, video editing, and composition
After this animation degree course, students would be able to work as.
AFTER THIS ANIMATION DEGREE  COURSE, STUDENTS WOULD BE ABLE TO WORK AS
Graphic designers
Texturing artist
Compositors
Rigging artist
2D animators
Non-Linear Editor
3D Animators
3D modelers
Lightning artist
VFX artist
Motion Graphics Artist
Compositor
Sound Editor
WHY TGC INDIA?
TGC India is the most innovative animation institute in Delhi, where courses are structured and tailored exactly to meet the student's need with the sole intention of making the student employable immediately the course is completed. The M.Sc in Animation and Multimedia course is a 100 % practical course that includes seminars and conferences with seasoned trainers with over 18 years experience as well as Animation and Multimedia Industry Experts. TGC India is home to a large number of international students from Nigeria, Ghana, Congo, Nepal, Afghanistan, and Tanzania as well as local students from all around India because of the excellent delivery methods, remarkable teacher-student relation, and the competitive fees. For college graduates interested in learning animation and multimedia, Register with TGC India Now.

Upcoming Batches:
---