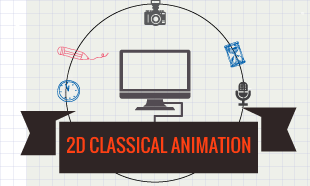 Instructors
Advanced 2D Animation Course in Delhi
Advanced 2D Animation Course in Delhi
INTRODUCTION OF BEST 2D ANIMATION COLLEGE IN DELHI
With the ever growing competition, it has become extremely important to groom yourself with creativity and innovation. Many courses are coming forward helping you to know about the scope for framing your career in the right direction analyzing your areas of interests. Computers are the most spectacular invention of the modern era. It helps you to get acquainted with modern technologies at just one click. This invention when blended with proper creativity and knowledge helps you attain the position in today's competitive world to frame your bright future. These days graphics, designing, animations etc are the courses that generate the notion of trying out your hand on something, which not just develops the confidence of your survival in the professional world, but also gives and edge to your hobbies and likings with a touch of professionalism. This is one stop to fulfill all your desires related to career and interests if you hope for something new and opt to have your workplace a place of self development along with making it a fun to be in.
Objective: of 2d Animation Course
In this course, using two dimensional models and skillful techniques, you can generate digital images on your Personal Computer. With the knowledge and learning of the basic working of traditional animation, this course matures the appreciation of students for cleverly put up artistry and execution of 2D images that are hand drawn, thereby, promoting the rewarding application of techniques.
Course Outline:
The outline of the course includes
Study of fundamentals of animations
Learning the principles of animations
Creation of Timing Charts
Learning the process of how to animate a specific character
Studying the principles of characters in advanced versions
Understanding the process of cleaning up
Building the personality of the character
Course Outcome:
It builds a sense of practical and vivid understanding of the animation process. Traditional animation is the basic foundation of this course as it broadens the skillful aspects of students as animators, thereby, enhancing the ability of their creations.
Technologies Used:
It works with various free and open source as well as commercial software's like Flip Note Studio, SVG Dreams, which is basically an animation library, Synfig, Stykz, Vectorian Giotto, TISFAT etc under freeware collection and Anime Studio, Adobe Flash Professional, Adobe After Effects, Motion, DrawPlus, Express Animator etc under Commercial Licensed Versions.
Career Scope:
Based on the perception, attitude and current crop of the audience, animation has a huge scope as the highest paying career option with advent of time. Exploration with the use of papers and pencils, the prime responsibility of students is to regulate and shape a subject's motion, weight, proportion, frame and volume.

Why TGC:
TGC  is the Top Animation institute in Delhi. We offers you well framed classrooms and infrastructure . It has good facilities with hygiene. Faculties are well trained. It gives proper certification. Students are very confident and determined. Every individual is given a separate computer. Practice hours are flexible and staff is co-operative with students.
To know more details on 2D Animation Training, kindly contact us.
Upcoming Batches:
---
Course Reviews
No Reviews found for this course.