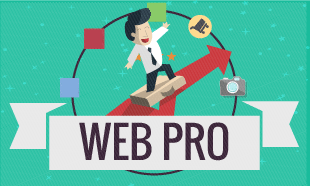 Instructors
Adv. Diploma Course in Web Design, Development & Digital Marketing
Adv. Diploma Course in Web Design, Development & Digital Marketing
Introduction Diploma Course in Web Design, Development & Internet Marketing
WEB PRO is a unique course in Web Design + Web Development + Internet Marketing. Conceived at TGC- Webpro is probably the only course at TGC (or anywhere) where we are given a written Job guarantee by signing a placement letter right at the time of joining the course. This sheer confidence comes through our commitment to deliver the best in web design training imparted by professionals on the practical platforms.
We are proud to retain the industry's best faculty in Navigation Design, Interactive Design, Web Programming, Advanced PHP, Framework programming gelled with sessions on Digital Marketing to become every employer's #1 Choice as a complete profile. Apart from daily classroom sessions, students join web workshops, group exercises, and Live projects.
TGC has its own production wing name: IT for Development, Indi-visual graphics and multimedia & Digital Yatra. TGC is an ISO certified company in the production of web design and development. Students during their advanced stages of course take an internship.
We are happy to boast that more no web design studios in India, touching bases with TGC for their placement replenishment compared to any other company. We invite you to visit TGC today and have a feel of our webpro course by taking a free demo. If your passion is web design- you will certainly love to be part of TGC.
Following is the complete breakdown of WebPro course,
PROGRAMME OUTCOME:
Creating eye-catching templates with an international look and feel.

Complete understanding of latest web UI standards.

Creating mobile friendly responsive websites.

Content Management System and developing admin moduled websites.

Fully Functional E-commerce website with payment gateway integration

Domain hosting, Site uploading & Maintenance.

Digital Marketing Module- SEO, SMO, Affiliate marketing, Content marketing etc.

High end modules on Native marketing, Email Marketing, Video Marketing, etc

Advanced PPC through Google Ads, FB and Instagram Ads, Twitter Ads, Adsense Management along with Social Media Marketing
COURSE STRUCTURE
Module1. Illustrations & Web Imaging
Planning a website using a structured document

Site Navigation Types

Advanced Responsive UI by creating web assets

Typography and color sense for Web design

Scribbling the layout

Creating web templates

Slicing the templates

Recognizing Good Design vs. Bad Design

Optimizing images for faster downloads
Module2. Core UI & Web Functionality
HTML5/CSS3 with Adobe Dreamweaver

Bootstrap,

Creating and Testing Responsive design

Web 3.0 standards,

JavaScript, JSON

Angular

Testing and Maintaining a website,

FTP controls.
Module 3. Advanced HTML5, Bootstrap and CSS3, JavaScript, JQuery and Angular
Vision and Future of HTML5

HTML5 elements and attributes.

Using the audio, video, and canvas elements.

Using new JavaScript APIs. and JavaScript alternatives

Data Storage in HTML5, Offline Applications, Geolocations

HTML5 Web Workers, Messaging APIs, Web Sockets

Applying JQuery, JQuery as an alternative for Flash

Selecting and Manipulating DOM Elements with jQuery

Event-Driven Programming with jQuery

jQuery and Ajax

Angular
Module 4. Core PHP & Content Management Systems
Installing PHP

Arrays, Super Arrays ($_GET, $_POST, $_SESSION)

Strings, Form Functionality, Form Validations

Running MYSQL Queries through PHP

Setting WordPress Content Management System

Admin controls and modifications in CMS Database

Developing Dynamic Websites using PHP
Module 5.  MYSQL
Connecting to the MYSQL

Selecting a database

Finding out about errors

Adding data to a table

Acquiring the value

Finding the number of rows

Inserting data

Editing or updating and deleting data

Executing multiple queries
Module 6. Advanced PHP & E-commerce integration
Classes and Objects in PHP (OOPS)

OOPs, OO programming, or Object-oriented programming

Inheritance, Abstraction, Polymorphism, Encapsulation

Differences among various versions of PHP

AJAX- Asynchronously connecting to the server and running requests using JavaScript

Checking XML HTTP request object in browsers

PHP Frameworks

Shopping Cart Integration in website

Setting-up/Integrating E-Commerce in a website

Practicals and Live Projects
Module 7. Woo Commerce (Open Source Shopping Cart)
Installing Woocommerce on the WordPress site
Configuring settings, products and payment methods
Adding physical, external and downloadable products
An overview of Woocommerce extensions
Developing complete e-commerce web platforms to buy/sell products
Module 8. Laravel (Framework)
Installation and setup of Laravel environment Directory structure of Laravel projects
Introduction to Model, View, Controller Architecture
A basic introduction to Routing, Middleware, Session, Validation, Error Handling
Converting HTML templates to Laravel projects
CRUD Operation in Laravel
Comparing applications of core PHP/OOPS PHP to Laravel
Module 9. Digital Marketing- Advanced SEO
Understanding SEO and why is it required for your business?

Analyzing site for SEO- Diagnosis Report Vs Treatment

Understanding Panda/ Penguin/ Hummingbird/ Pigeon etc.

Working on URL/ Meta/ Title Alt/ HTags of your site

Setting up/ Managing WordPress blog on your site

Competitor analysis & strategist your SEO

Quality backlink generation through High PR/ PA/DA sites

Google My Business/ Classifieds/ Forums/ Bookmarking content

Creating high quality and engaging contents

Video-Sharing/ Content sharing through Web 2.0 data
Module 10. Analytics & Google Search Console
Setting up the Analytics/ Webmaster tool

Setting Analytics/ Webmaster code on site

Applying Data structure/ Highlighter/schema.org on site

Applying Disavow for removing bad spammy links

Removing errors on site reported by GWT, Bing WM

Setting up Authority on website

Managing "Google My Business" through GWT

Understanding Organic/Paid/Referral/ Direct Traffic in GA

Adding/ Managing more sites in Google Analytics

Observing traffic trends in GA
Setting up the first Adwords campaign for your website

Managing My Client Center for Adwords

Creating attractive ads with high-quality scores

Landing page creation for better ROI and CPA

Setting up goals and funnels in the Adwords Campaign

Re-marketing and developing an audience,

Managing CPC & increasing Conversions for Campaign

Setting up and managing Adsense

Managing Ad Extensions & Display networks

Bing/ Facebook/ Twitter Paid ads management

Reporting and Case Study
Module 12. Social media optimization (SMO)
Understanding & leveraging value for your business through SMO

Setting up the FB Business page and increasing engagement on the Business page

Creating engaging posts/ contests/ culture/ events

Managing insights/ Talk-about and reviews from the audience

Managing SM eg. Linkedin, G+, Youtube, Pinterest, Twitter, etc.

Video / Photo / Audio Sharing (YT, Vimeo, Flickr, Podcasting)

Managing Coupon based sites and Location-based services

Scheduling posts for better results

Strategizing SMO Proposals for E-commerce sites

Integrating Social media marketing with SMO

Word of Mouth and Viral Marketing through SMO

Measuring ROI, financial, customer satisfaction, awareness
Module 13. Email/ Affiliate/Mobile marketing
Email content that drives more Conversions

Building and managing an Email list

Driving response with psychology-based Marketing

Writing Conversion (copy writing & content essentials)

Email Newsletter foundations: A Road map for Success

Maximize Email deliver ability to drive revenue

Best affiliate sites for monetization- Setting up accounts

Obtaining/ placing tracking code & getting approved for AP

Generating revenue through a membership site/ list building

Generating revenue through Mobile Messaging/ Apps

Whatsapp Advertising/Mobile Video sharing
Upcoming Batches:
---