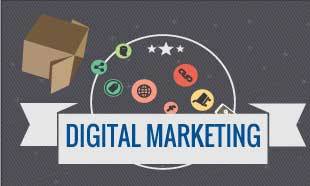 Instructors
Advanced Digital Marketing Course in Delhi
Advanced Digital Marketing Course in Delhi
INTRODUCTION OF  TOP DIGITAL MARKETING COURSE IN DELHI
The Advanced Certification digital marketing Training in Delhi is a newly improved course in available in South and East Delhi offered by TGC INDIA. This digital marketing course is intends to train online business owners and digital marketing jobs enthusiasts on how to take advantage of the reach, the reduced cost and personalization are the advantage of the internet in the marketing business, companies, and industries as against the traditional way of marketing.  The course would explore all new trends in internet marketing as it relates to digital marketing. This course is highly recommended for all online business owners and budding startups.
OBJECTIVE OF BEST DIGITAL MARKETING COURSE
This Course in digital marketing aims to  train its students on how to manage a website for research, online marketing for shopping and entertainment using content, bounce rate analysis, popularity of the site, architecture and response time to improve the visibility  of the website and to drive traffic  and generate sales for the website /Company, as well as carry out reputation management, conversion rate optimization and web analytics.
COURSE OUTLINE
This Digital marketing Training  Institute  is divided into several sections which includes
Module 1 
Fundamental Of Digital Marketing
In the first module of Digital Marketing Course , we will teach you basic terms of Digital marketing, Measurement And Metrics, Search Engine Basic Guide, Paid Channels & Organic Channels.
Module 2
Blog setup via WordPress
In this Module You will Learn How you can Create Your Own Website through a popular content management system called WordPress , If you are in search of populating your content by building a website, WordPress Training classes will help you achieve what you want. Sessions includes Setting up of WordPress to create pages and posts, applying themes and plugins and finally creating a website using wordpress.
Module 3
Search Engine Optimization
The Search Engine Optimization would teach students how to carry out both off page and on page search engine optimization activities on a website and how to use Search engine optimization tools to gauge a website and check the results of all search engine optimization activities carried out on a website as compared to that of a competitor with a similar brand or keyword.
Module 4 
Setting up Local Search Strategy  ( Local SEO)
In this Module You will Learn How to Rank your Local Business Website, Understand SEO and Local SEO And How to build a Strong Presence in Search, Know how to Create And Manage Google My Business and other similar local channels.
Module 5
Google Webmaster Tool (Search Console) &  Google Analytics 
In this Module you will learn about Google Webmaster, that will help you to manage Your Website In terms Of Performance, Error Etc. Google analytics tool helps you to analyse the traffic of Your website on various parameters and also helps you to build an audience re marketing. Both of these tools are taught on live projects.
Module 6
Pay Per Click Marketing (PPC) – Google Ads
Pay Per Click (PPC) Training module involves a model of internet advertising which is used to channelize the traffic to websites. Students start from the scratch and set up the account, create campaigns and ad groups, learn about writing interesting ad copies, making Keywords planning, setting up bidding, understanding and applying Display ads and youtube ads, leveraging values of expenditure by bringing low cost conversions. Understanding and applying Re-marketing and Targeting, and there is much more…Students able to grasp the concepts by learning the PPC on live projects.
Module 7
Social Media Optimization 
Social Media deals with creating and exchanging information with people through productive interactions. With the blending of technological and ideological foundations and the perfect mix of several applications of the internet, Social media can do wonders. A Social Media course at TGC is everything you need to learn to master the art of selling things via Social Media.
Buyers take social media as the most convenient and active form of acquiring information about various products. According to recent study, In countries like India, the total amount of time spent on social media is 121 billion minutes, which marks the increase of 37% from the preceding year. Sub modules in Social Media Optimization includes detailed training on Facebook, Instagram, Twitter, Pinterest, Linkedin and other popular social media.
Module 8
Social Media Marketing (Paid) 
 In this module students are able to work on paid channels of social media like facebook advertising, Instagram advertising, Twitter advertising, Linkedin advertising and also include Native ads advertising.
Module 9
Content Generation & Planning
In this module you will get to learn about how you can create search engine friendly content Planning the content in trend, Using tools for quality content, and generating more and useful content everyday.
Module 10
Video Marketing (YouTube Marketing)
In this Module of video marketing training, You will learn How to Create your first YouTube channel, Growing YouTube Channel organically, Getting more subscribers & Likes, And YouTube SEO.
Module 11
Email Marketing
Email marketing course module would make students learn how to  Create Email Marketing Campaign, making useful lists, making interesting subject lines, writing interesting bodies of E mailers With Premium Tools.
Module 12
Online Reputation Management
In this module students would learn about managing the reputation of businesses by creating a good word-of-mouth among their end users and customers, dealing with negative reviews, generating case studies of satisfied customers and customer journeys to highlight customer satisfaction.
Module 13
Affiliate Marketing
Online Affiliate Marketing is a performance-based marketing that compensates sales agents and publishers solely based on the number of sales made, mostly on the individual unit sale price. A company sells its products by affiliate marketing sales registering publishers to sell the products to their followers and customers for a commission basis on each sold unit. Our Affiliate marketing course module at TGC is profit centric and helps students to learn techniques and tricks to make money being an affiliate. Students would able to set-up accounts on top affiliate channels and do projects under the assistance of our trainers.
Module 14
Blogging & Adsense
In this Module students will Learn How to Earn Money As a Blogger through Google Adsense Programme right from setting up the Google Adsense, approving their website or blog setup to bringing traffic etc.
Module 15
Dropshipping ( Basic) 
In this module, You will learn about basic Dropshipping, How you can Start Online Dropshipping Business and Earn Money By Selling Products Online.
Module 16
Influencer marketing
Learn How you can Be A Social Media Influencer and Earn Money from That. At a Basic level, influencer marketing is a kind of social media marketing which uses endorsements and product mention from influencers–persons who have a devoted social media following.
Modules 17
Be an Amazon Seller
In this Module, You will Learn how you Can Be Amazon Seller and List Your Products on Amazon and Start Selling your product online and Earn More Money.
Modules 18
Earn As freelancer
In this module students would learn how to earn money through freelancing works, we will teach you how you can take projects from USA, UK and other countries and how to deliver them as prescribed.

For the complete breakdown of this course,


NOTE: At the end of this Best Digital Marketing Training course. Projects would be executed by students individually on personal websites. This course has been updated to reflect new trends in digital marketing for 2020-21.
TOOLS COVERED
Google Search Console tool
Google Analytics Tool
Google Keyword Planner
Moz PA/DA, Alexa, SEM Rush, Majestic, Ranking Tools
Google My Business
Google Ads
Linkdin Ads & Twitter Ads
Auditors and Report Generation Tools
Mail Chimp
Many paid tools
After Complete  Internet & Digital  Marketing Course in Delhi. Students would be able to work as
 Digital Marketer
SEO Managers
Social Media Specialist
Site Analyst and Webmasters
Creative content developer
Affiliate Marketer/ Manager
Internet marketing trainer
Online reputation manager
Brand manager
Online Business Analyst
Site Strategist
WHY TGC INDIA for Digital Marketing Course?
TGC India is a leading name in Internet & Digital marketing Institute in Delhi. TGC India has the most updated This course for a digital platform for marketing due to the presence of internet marketing trainers who work daily in different respective fields of  Internet marketing for reputable companies as against resident trainers in other internet marketing institutions who are not conversant with the current trends. With over 15 years' experience in training students and a remarkable network of industry experts and alumni, TGC India is the place to go for this Course. If you Want To find This Course in Jaipur Click HERE
TGC India training is 100% Practical and also has an after training support for its students to constantly keep them updated with the new trends and tools in the internet & Digital marketing scene.  Due to our goodwill and good reputation, TGC India is constantly bombarded with internet marketing vacancies which enable us promised a 100% placement assistance after course completion Begin your Internet & Digital Marketing Course journey without training today.
[cp_popup display="inline" style_id="9072″ step_id = "1"][/cp_popup]
Similar Courses:
Upcoming Batches:
---