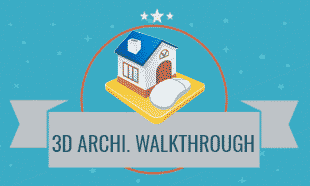 Instructors
Adv. Certification in 3D Architectural Walkthrough
Adv. Certification in 3D Architectural Walkthrough
INTRODUCTION
The Adv. Certification in 3d architectural Walkthrough is a trending aspect of architecture in which the blueprints of architectural works are transferred into a three dimensional  computer generated graphics and simulated for viewer appreciation right before the building is built at all.
With a surge of business in realty trade there is huge demand of professionals who understand art of creating 3d walk-through. TGC is training students upon some of the latest applications and plug-ins used for creating archi-3d walk-throughs. We have placed students with leading Builders and interior design firms. Students can visit our centers for a free demo by our team of experts.
OBJECTIVE of Adv. Certification in 3D Architectural Walkthrough:
An Adv. Certification in 3D Architectural Walkthrough  that would begin with teaching students the fundamentals of architectural design and the interrelationship of 2D Building plans and 3D computer generated Graphics. We trained students upon the trending applications and plug-ins used for this purpose. Students renders plan by keeping utmost details of lighting and texturing. Students optionally also learns drafting the plan in CAD applications and then erecting the same in fascinating ways. Through advanced camera tracking techniques.
COURSE Outcome:
Architectural Presentation Techniques
2D Plan Layout
Geometric Drawing
3D Plan Development from 2D
Realistic Texturing and Renderings of 3D plans
Paint effects and Look Development of 3D plans.
Animation of 3D plans.
Course Structure of Adv. Certification in 3D Architectural Walkthrough:
Module1: Architectural Presentation Techniques
Board structure Content-  (Floor Plan + Site Plan, Elevations ,Sections ,Perspectives  and Axonometric Views ), Introduction to architectural drawing conventions and practices, Use of drawing equipment, Site, Floor and Ceiling plans, Elevations and Sections, Presentation drawing.
Module2: 2D Plan Layout
Different types of 2D Layout, Standards in 2D Plans and views, Copying, moving, and deleting drawing geometry, Making and retrieving symbols, Creation and use of layers, Entry and handling of text, Font
Module3: Geometric Drawing
2D Geometric Modeling using AUTOCAD, The use of scale, making and saving prototype drawings. Accurate drawing using lines, construction lines, multiline, arcs circles and curves. Drawing objects accurately relative to other objects, Application of dimensions. Setting and saving dimension styles, Changing drawing geometry accurately. Trimming chamfering and filleting.
Module4: 3D Plan Development from 2D
Modeling using 3DS Max from 2D reference plan, Vertex, Edge, Polygons, Borders and elements, Plane Modeling, Patch Modeling, Polygon Modeling/Box Modeling, Mesh Modeling and Nurbs Modeling, Proportion of 3D Models.
Module5: Realistic Texturing and Renderings of 3D plans
Developing realistic textures using Photoshop, UV layout of Models, Exporting UVS to Photoshop, Importing textures to 3DS Max, Rendering architectural designs.
Module 6: Paint effects and Look Development of 3D plans.
Lighting of scenes, Applying Shaders and Ramps, Camera setup for animation, Animation of scenes Composting and visual effects.

Why TGC?
TGC India is a leading Graphics and Animation Institute in Delhi with branches across the country. It provides an educational environment that houses both local and foreign students who share ideas to develop their visual communication skills. It boasts of well trained and highly industry experienced staff who are both friendly and courteous and ready to train using Live projects and the interactive learning system whose benefits outweigh online tutorials or self-help books. Take an Architectural Walk-through course with TGC India today and get set towards a promising career.
Upcoming Batches:
Course Reviews
No Reviews found for this course.