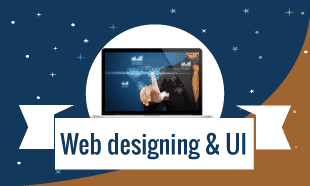 Instructors
INTRODUCTION
The present decade is an age of highly prospective internet web designing and creative knowledge sharing over the internet. The present era is rightly called the 'Information Technology Age" and India has always been at the fore front leading the way into the sector with capable professional expertise and well oiled IT education curriculum. Students can avail the most specialized courses in detailed formats and with expert tutorship.TGC India offer courses in designing ingenious graphical websites, nuances of digital advertisements and multimedia forums, print & publishing segment and also product designing and remodeling using Asics of IT. As more and more companies feature their organizational details and product brochures over the internet, web designing is a booming career for those who wish to channel their creative instincts and technical proficiency in the most apt industrial segment.
Objective:
Graphic designing studios and web designing studios absorb talented web designers and offer them with a good incentive to work and hard core exposure to core industrial demands.
Course Outline:
The short term courses are on a fixed curriculum in the fields of-
Creative and interactive assets for web design like banner, icons, infographics etc.
Core web design code for responsive web (HTML5/ CSS3)
Interactive Multimedia (Flash and AS 3.0)
Web Development through Content management systems
Course Outcome:
Designing professionals can apply their skills to design symbols, logos, illustrations, and even showcase their talent using creative photography. Just like any industry, Web designers can expect career growth based on right blend of experience and skills.
Technologies Used:
Web designer uses various technologies like Flash animation, UI Design, Layout design and Graphic design.
Career Scope:
Web designers have many doors of opportunities to knock and make their mark as a prosperous IT technician. The budding career can blossom in other ancillary industrial segments, as well. Web designers with diploma in web designing can try their skill sets with companies that offer web hosting programs, software applications and e-commerce portals. With the growing trend of freelance tasking, many Web designers also work on a freelance basis, designing web sites for IT companies dealing in variable magnitude. Regular projects keep coming and with growing market demands. Web designers have a great opportunity to join the league of prosperous technical experts.
As far as the working regimen is concerned, Web designers have no limitations in work. They can earn as per their working capacity. More hours they put in, greater the compensation they get. With accuracy and hitting deadlines, web designers can make a living out of 4 days of work.

Why TGC?:
Students of TGC India are already working for various top and middle level industries. Most of our students are already undertaking projects with various marketing firms, media agencies, exhibition and fair promoters, educational services and online shopping portals. TGC India has its own work study based curriculum that teach students to manage time with deadlines from clients and how to stick to website requirements and software compatibilities. TGC India offers full time courses as well as short term courses. TGC India is responsible for polishing the creative hindsight of the students, and nurtures their skills to match the needs of the industry.
For more information on Diploma in Web designing, kindly contact us.
Similar Courses ::

Upcoming Batches:
---
Course Reviews
No Reviews found for this course.