Learn from Industry Leaders






December 29, 2009- Dehradun- The Dec 27th Event in Dehradun was a whooping success marked by resounding presence of over 500 intrested onlookers asking for more.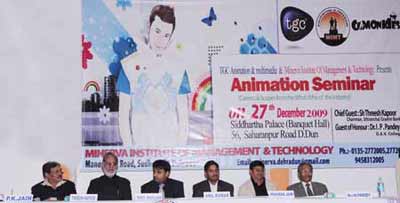 Special technical session by Founder of CG monkies Ashok Mahiwal.The event was on "Animation & Multimedia: Scopes and Careers" had a over a dozen number of on the spot admissions for Diploma and Degree courses run by TGC.The itenary included the interaction from who' who of the industry. Mr. Pradeep jain, Chairman, MIMT has given the opening speech The chief guest was Shree Threesh Kapoor a renowned Photographer and art lover.The event was started by the traditional deep lighting ceremony followed by indepth coverage of technical sessions by Team CG monkies.
Digital Painting by Kamal Nishad --> Limca Book of record holder for 130 hours continuous portrait painting.
Nishant Rana --> From Concept art to Final Creation.
Nishant Hetampuria --> Mechanical and Transformable rigs.
Deepa Gupta --> Game level Designing.
Ashok Mahiwal --> CG Monkies and technical collobration with TGC.
Mr. Ravi Ranjan (Director - TGC Animation & Multimedia) has given lecture on Careers and Scopes in Animation and Multimedia.
In the end TGC experts has answered the queries came from audience.