Learn from Industry Leaders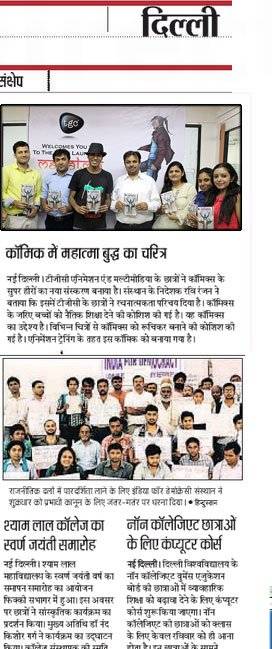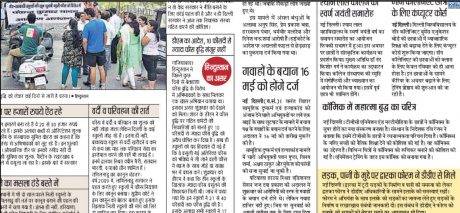 New Delhi– Mahatma Comic series launched its first edition with an institutional tie-up with the leaders of Animation training, TGC Animation & Multimedia, Delhi. Boosting up the era of super heroes, Mahatma arrived at TGC and was welcomed with a warm response by the TGCians.
The students of Animation & Multimedia felt that this launch will serve as a catalyst in brushing their skills and were excited as they found a new gate in the path of the career making,
Mr. Ravi Ranjan, Director of TGC Animation & Multimedia shared his views as "A comic is a part of every childhood upbringing, every grown up had a super hero as a kid. This new comic series launched by Gravity Comics and TGC is an effort to bring back those links and infuse the creativeness within the students by scratching their childhood and underpinning the roots of their interest. Our continues efforts of having tie-ups with the industry movers like this and other Animation studios helps us in nurturing the talent of our students, we will be coming up with more alliances in the near future"
"We chose the institutional platform of TGC Animation & Multimedia to launch the first edition of Gravity Comics because it emphasizes visual storytelling and introduces our characters in a strong, iconic way. TGC also offered us the opportunity to interact with our audience on a personal basis to find the right tone and style for this new incarnation of Buddha's teaching , the superhero- Mahatma," said Ajay Mathew, Founder Gravity Comics.
This tie-up of production and training will benefit students in their portfolio refining, participation in special workshops on comic designing and grabbing an internship with Gravity Comics.
This Mahatma is a superhero who follows the teaching of Lord Buddha and is disappointed with the devasted state of the society filled with corruption and selfish motives. He then decides to become the devil himself to destroy the devils, this beautiful story unveils the frustration of a good hearted guy who wants peace and equality in the society.
What looked impressive was the enthusiasm amongst the TGC students who were involved in the promotion & launching of the comics. The event started with a very impressive A/V trailer of Mahatma made by a TGCian and developed at TGC.
Within the complete course module of Graduate and Post graduate Degree in Animation & Multimedia, out of the various subjects sketching, colour theories, scripting and animations are the integral parts. Students of TGC have reaped this prospect of learning all these aspects while making the next series of the comic series.
TGC and Gravity will be launching not only the further editions but also new super heroes in the upcoming days. The names will be launched soon. The students pursuing degree or diploma in Animation & Multimedia at TGC will be getting an opportunity to work as interns and to join the team of sketchers, colouring artists, script writers, 2D Animators at Gravity Comics.
For more information, go to www.tgcindia.com, www.facebook.com/tgcin