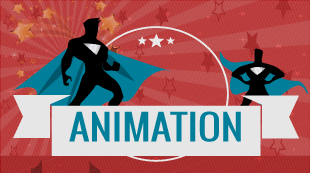 welcome
You cannot afford to incur the cost to be a professional 3D animator but still, want to achieve that seamless animation quality for your project? Do not fret, if so is the case with you as you can use the following encapsulated tricks for adding that perfect professional touch to your animation project. Usually, these tricks are taught to the professionals during their animation training in Delhi.
Placement of animated elements, characters, etc.: One of the most important fundamentals of animation is the placement of animated objects in a scene. For example, if you are creating up an animation for a website then make sure you place it in a corner where it does not irritate the user. Also, make sure that there is an option to stop the animation otherwise the user might quit your website.
Colors: During animation training in Delhi professionals are imparted the knowledge about how to choose the color schemes for a particular scene. You need to continually review the color schemes with the addition or deletion of characters or objects in order to keep the scene appealing to the eyes of the audience. Proper lighting should be done for all elements, characters, etc. to provide them visibility according to the human eye.
 Add an element of humor: Have you ever seen an animation sans humor? Keep in mind the audience of your animation and then accordingly add humorous elements in the animated movie.
Deliver meaningful messages and not just a series of animated elements: schools providing animation training in Delhi to professionals makes them realize the importance of adding meaning to the animation. Users should be able to connect to the animation scenes and understand the flow of animation. If this doesn't happen they will lose their interest in the animation and your effort would end up going waste.
Keep it simple yet elegant: Animations must be kept simple initially as it becomes difficult to remove the added details. However, you can continue adding details to the characters, objects and other elements as per the changing requirements.
Pay attention to Loops: Loops make sure that a particular animation executes for the defined number of times and then automatically stops. A continuously running animation anywhere can annoy the audiences and no professional animator wants that to happen.
Rendering: During animation training in Delhi, professionals learn the real meaning and significance of the process of rendering. You can speed up the rendering mechanism by turning off the process of anti-aliasing.
Specify the size: It is very important to specify the size of an animation especially if it is being deployed on websites. Every user knows about his or her modem speed and depending upon the size of the animation, they can estimate whether they want to run it or no.
Ensure Animations run without any plug-ins: Institutes providing animation training in Delhi tells aspirants to avoid using animations that require additional support or plug-ins to run. No one likes downloading extra software for viewing anything on the internet. Hence, such animations are a big no for websites.
Flash animations should be able to load quickly: if you plan to use flash based animations in your project then keep them small in size to ensure they get loaded quickly.