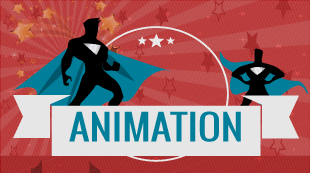 welcome
So, you are finished with your schooling and overwhelmed by the career choices available before you? Well! If you have a creative bent of mind, making a career in an Animation will be the right choice for you. As a professional animator, you would be sought after by a lot of production houses and advertising companies. Enrolling for an Animation course from a reputed institution will do the needful for you. As part of the course, you will be taught different strategies, methods, software, different stages of animations, etc. Enumerated here are the stages involved in 3D animation.
Modeling is a basic phase involved in animation. During this stage model for surfaces, characters, background, weapons, buildings etc. are prepared. For preparing models, different types of specialized software technologies are used. Things or characters whose models are to be prepared depends upon the theme on which animation movie is to be created. Modeling phase also includes studying the topological aspects.
Texturing is the next phase involved while creating an animation. It includes creating a texture from the base, editing an existing texture for reuse, etc. comes in this phase of animation. Texturing is the phase where the background is made to resemble the background of the real world. Using texturing one can create brick walls, stone walls, flooring, etc. Shading intensity is to be decided during the texturing phase and textures are developed like maps and then assigned to a particular scene or model.
Lighting is a very important part of animation and it can add life to a particular scene in an animated movie. Shadows, what kind of light effects, angles from where lights fall, the intensity of light, and a lot more is the responsibility of a light artist. To make the characters in a movie resemble real characters or to make them finer a technology called rigging is used.
Rigging is a phenomenon using which bones are added to a character or an object to be used in animation. During the lighting stage, all the elements created as part of the other stages are brought together into the picture. Rigging is done mainly to define movements or different postures an animated character can exhibit like rotating their arms, moving his or her fists, etc. can be added to a character using rigging process.
There are numerous institutes that are available and one needs to figure out from where he or she is willing to specialize. Each course has its own fee structure and may vary from one school to another. Do not forget to ask the institutes about the job placement as once you are done with the animation course you will be eager to exploit your skills and blend them with your creative instinct to prove as an asset for your employer.
Why TGC is a Sought After Institute?
Total Graphics Classes or TGC is an institute relied upon thousands of aspiring animators. Animation course in this certified and highly esteemed institute is meticulously crafted and covers everything that this highly competitive industry demands.
For best Photography course in Delhi, please connect to school of photography.