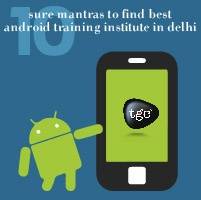 welcome
Android has revolutionized the world of mobile operating systems. To become a successful Android professional you should join an institute which offers Android training in Delhi.
This article discusses 10 sure shot mantras which can help you find the best Android development training institute in Delhi. Let us look at them:
Identify your objectives/interests
You should first identify your objectives behind choosing Android training institute in Delhi. Make a list of your needs like your training requirements, your current knowledge, your availability for the course etc. to arrive at the best institute.
Institute's reputation
Now, make a list of the Android training institutes in Delhi. Check each institute's years of operation, staff strength, accreditations, and student reviews to evaluate their reputation.
Quality of faculty members
Interact with the faculty members of the institutes. Find out their years of experience, qualifications etc. A good institute has a faculty team comprising of real-time Java and Android application developers.
Quality of the students and the general environment
Assess the quality of the students and their profiles. A good training institute has passionate students and an excellent learning atmosphere.
Individual attention
Check the batch sizes for Android training in these institutes. A good institute offering Android training institute in Delhi keeps smaller batches to ensure individual attention and quality learning for all the students.
The effectiveness of the course curriculum
The course curriculum is one of the most important things for selecting Android training in Delhi. A good training institute starts with the basics of Java. It covers Android's basic concepts like the user interface elements, buttons etc. and then moves to the advanced concepts like designing user interface, developing applications etc.
A good course curriculum is totally practical and industry aligned to help you develop Android applications as soon as you finish one.
Training Methodology
Interact with the faculty members and evaluate their training mechanism. A good Android training institute conducts many workshops, walk-through sessions and lab assignments to make the students understand Android features so that they can effectively build, debug and deploy mobile applications.
Infrastructure and training resources
Check if the institutes use the latest software applications and hardware to offer training. Good training institutes offering Android training institute in Delhi have excellent infrastructure and online resources which the students can take advantage of.
Placements
Some training institutes have tie-ups with reputed mobile application development companies and offer placement assistance. Check with the placement statistics, packages offered and placement mechanism etc. for each institute.
Internship or hands-on/live project experience
Many institutes offer internship and some even encourage the students to work on live projects for some of their clients. Preferably opt for an institute which focuses on lots of hands-on training and experience.
If you wish to take up Android as a career option then you should follow these ten mantras to find the best institute offering Android training in Delhi. Android training can help you build a lucrative career in the field of Android application development.
Contact Us