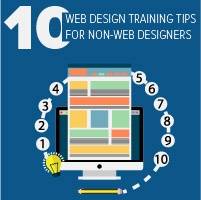 welcome
To become a good web designer it is very important to understand what works and what does not work well for a website. A good web Design course at TGC can help you understand the key concepts needed for good web design.
This article discusses 10 training tips which you can quickly follow to build good websites even as a non-designer. Let us have a look at the tips:
Tip 1: Don't use too many colors and use the right ones
A good design should not have more than 3 colors. It is very important to use the colors which go well together or complement each other. A good web Design course at TGC India, India's one of the leading training institutes can help you understand the right color combinations.

Tip 2: Don't use too many font variations/typefaces
Typefaces are the bold, italic or other versions of a particular font. You should avoid using more than 2 typefaces and fonts. Too many typefaces can confuse the viewer and establish a whiff of inconsistency.

Tip 3: Don't crowd your navigation bar with too many items
The top navigation bar should not contain more than 8 menu items as the site can become difficult to navigate. If you have too much information/pages then you can use drop down menus or nested menus.

Tip 4: Don't be afraid of white space, it's cool
Don't crowd too many elements/buttons together on your website, it will look messy. Use ample white/blank space between tabs, elements and text to draw visitor's attention to specific parts of your website. A good web Designing course in Delhi covers this concept in details.
Tip 5: Pick up the important elements
Take a notebook and make a list of the most important things for a website. What do you want the visitors to notice first (logo, article, action buttons, navigation bar?) Put this information on the top of your website. A good web Design course covers the aspects of prioritization in details.

Tip 6: Use compelling content and place it carefully
Ensure that you put only compelling and engaging content on your website. The placement of the content is very important too. Use the layouts wisely.

Tip 7: Follow your unique style but don't deter much from the conventional standards
A website form should look like one and a link should look like a link. If you have creative ideas for putting things on your website use them but only to an extent so that you don't deviate from the conventional way of putting things forward.

Tip 8: Maintain conformity
Try to keep your page elements like the navigation bar, the footer, the sidebar and the other things at the same place across all the pages. A good web Design course can help you in designing such websites where people can locate things easily.
Tip 9: Don't ignore the website area which shows up on scrolling
If you have scroll bars don't ignore the hidden page areas which people can scroll to. The area which shows up without scrolling should contain the most important information but this must not be ignored as well. Always create responsive website well made with HTML5/CSS3 and JQuery component.

Tip 10: A company's different websites should look as if they are from the same set
If you are building multiple websites for the same company ensure that they are consistent enough to appear as one set.
Follow these ten tips and join a web Design course from TGC Animation and Multimedia to build great websites.