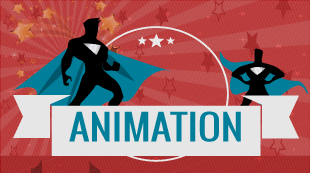 welcome
Animation has become popular not just in films but also in many other areas such as education, gaming etc. To become a skilled animator you should join an Animation course in Delhi. However, before you start hunting for an animation institute it is important to explore the career opportunities which you can grab after the completion of your course.
This article discusses the opportunities available to you after the completion of an course. You should first narrow down the options which appeal to you and then accordingly select an institute which specializes in them. So let's get going:
1.   Storyboard Artist
A storyboard artist has to visualize a story and present its scenes in a visual form. A storyboard artist has to depict each frame through an illustration. As a storyboard artist, you should have good imagination skills.
Storyboard artists use pencils or software to build illustrations. A good course begins its course with drawing and sketching ideas on paper and then moves to storyboard.
2.   2D or 3D modeler
A 2D or 3D modeler is responsible for creating models for animation. These models depict characters and objects. These models are created in animation software these days. For 3D modeling, it is very important to have an eye for detail. Join a course to learn 2D/3D modeling skills.
3.   Compositor
Compositors work post-production. Their job is to integrate animation, action, static background, graphics & special effects and build a final integrated image. They receive these inputs from other teams. Compositors have to ensure that the project norms established initially are met.
Compositors use software like Adobe After Effects and Shake for their work. They have to edit and enhance certain aspects to ensure a quality image after integration. They sometimes enhance or reduce the lighting, adjust color levels and manipulate other aspects of an image to ensure consistency. A good course conducts practical studio sessions on composition.
4.   3D Animator
3D animators take a ready-made 3D rigged model and make it alive by applying animation into it. They manipulate the frames in a way that the object appears in motion. 3D animators are highly demanded. The field of 3D animation provides many other job opportunities in itself like rigging, lighting & texturing etc. A good course dedicates a whole module to 3D animation.
5.   Game Designer
Who doesn't love games? Game designing is a very good career option if you are creative and artistic. As the name says a game designer is responsible for designing games using 2D and 3D animation techniques. There is a huge gap between supply and demand of game designers in mobile and social media gaming.
A good designer has to be passionate and creative to bring ideas to life. Needless to say, he/she should enjoy gaming. You can take up an course and gain these skill sets.
If you find animation interesting then you should join a good course and build the skill sets much needed in the industry.
Contact Us