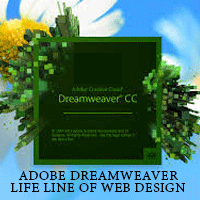 welcome
Adobe Dreamweaver- A lifeline of Web Design
Have you ever wondered the brains behind designing websites? There are times when you get fascinated with the design of a particular website and wish that you could have designed a similar website. Well! Whether you want to create your own website or want to make a career in website design, you would come across hundreds of software that are created for the aid of web designers.
There are a few which are user-friendly and meant for not so advanced programmers whereas there are others which are used by the professionals only. Adobe Dreamweaver is one of the sought after choices for website designing. Indeed, it would not be an exaggeration to say that it is a lifeline of web design.
What is Adobe Dreamweaver?
As it is apparent from its name, this highly useful website development tool is developed by Adobe Systems. It was Macromedia that developed the software in 1997 and maintained its proprietorship till 2005. In 2005, Macromedia was sold to Adobe Systems. It can be termed as a useful development tool for the overall management of websites. You can create, publish and manage a website with the help of Adobe Dreamweaver. Also known as WYSWYG (What You See What You Get) HTML editor which is a market leader and is well ahead of all its predecessors.

Why Dreamweaver is So Popular?
If you want to build a career in website design, you should know the basics of the Dreamweaver. It is the most popular choice among website designers because it has the feature of Syntax highlighting which makes it very easy to use. There are several other reasons owing to which the software is a preferred choice. The software is not only easy to use but it navigates and replaces code lines and expressions in the websites. Also, you can have a look at the preview of the website that you have designers in the chromes like (Internet Explorer). The software has been updated from time to time and the current updated version which is the most popular one also is Adobe Dreamweaver CC

Do you need Upgrade Version of Adobe Dreamweaver?
If you are looking for making a career in website design then you must have one of the versions of Adobe Dreamweaver. As the software is an indispensable tool for professional website designers. But, since this is a very old application, you must wonder whether you should get hold of an updated version. The answer to which is: Of course: yes.
The first version of the Dreamweaver was released way back in 1997 and was meant for Mac merely. Since then, the software has been updated from time to time so that it can have an edge over plenty of other website development tools. In 2013, Dreamweaver CC was released which is the latest version of the Dreamweaver and a wide range of useful features that are tempting for the website designers.

Where to Seek Help from?
Adobe Dreamweaver is software, created basically to help website designers. If you are planning to make a career in web design and also looking forward to pursuing a course in Dreamweaver, for a specialized training in Dreamweaver you need to take the right help. TGC Animation and Multimedia (TGCINDIA) is an esteemed institute that nurtures you by offering certified courses in website design and make your dreams come true. Log on to www.tgcindia.com to know more.
Contact Us