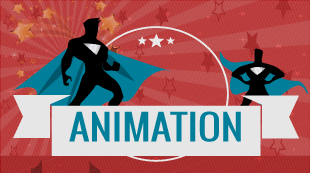 welcome

Course in Animation
If you have a creative bent of mind, a flair for sketching and can come up with innovative ideas then look no further as you can make it big in the d of Animation. Once you have completed a certified course in animation, the world of opportunities eventually opens for you. You can use your skills to promote businesses of your clients and can earn pretty well. Let us have a quick look at how you can use 3D animation design to promote businesses.
3D Animation Design Grabs the Attention of Visitors:
After the completion of the Animation course, you get the requisite skills. Using your 3D animation designing skills on the websites you can trap the attention of the visitors. You can keep those visitors to your site and maintain a constant flow of traffic to your websites. This is so because 3D images look much more appealing than the still images and leave a lasting impression in the minds of the visitors. Therefore the first advantage of 3D Animation design is to retain the visitors. If you use a character or cartoon animation in your advertising campaigns, you will have an edge over others.
Using 3D Animation You Will Have Perfect Presentation:
You can make use of 3D modeling for the business promotion of any company. 3D graphics can be ideal presentations of the services or products on sale. Animation of any product that you want to promote is possible through 3D Walkthrough and 3D rotating. The animator has a complete control over the product he wants to promote and therefore he can showcase all the related facets for promoting products effectively.
3D Animation Can Be Used to Simplify The Difficult Concept:
3D Animation is a wonderful technology that is used for simplifying intricate concepts. For an effective business promotion, you should make use of architectural designs in 3D  and can make the presentation of even the most difficult business models easy for your target audience.
Why to and Where to Pursue the Course in 3D Animation?
If you are impressed enough by the benefits of 3D Animation to promote businesses and thinking of getting enrolled in an animation course, then you are just on the right track. Days of 2D Animation are passé. 3D technology provides more visual depth, a wholesome 360-degree view, and more realistic features so better you learn this digitally advanced technology to have an edge over others. Once you have made up your mind to pursue a 3D Animation course, the next thing that immediately comes into mind is where to pursue this course from?
The course should be pursued only from recognized and affiliated institutes. TGC Animation and Multimedia is a highly illustrious institute that has the reputation of churning out a large number of top-notch professionals in the field of Animation and Multimedia. This institute is run by the brightest brains from the industry and the all the courses are crafted meticulously by them to suit the market needs. If you are tempted enough to know more visit: www.tgcindia.com.
Contact Us