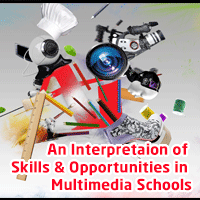 welcome
Experts in multimedia animation with graphic design skills with the ability to establish and advance innovation constantly in the field.  Several multimedia schools have come to train students in various aspects of multimedia. Students who are attracted to the animation and multimedia, these schools have great career opportunities through the completion of his undergraduate course.
Multimedia Schools introduce students to high technology software such as Dreamweaver, teach about concepts of design, editing, illustration, HTML, digital printing, web animation, and Macromedia Flash.
Students must choose wisely the school to be selected for a course in multimedia since several of them offer more multimedia courses. Some things to consider when selecting the multimedia school are the type of content these courses may offer with the advent of interactive technology there wide of array of the objective industry keeps in mind that is what applies to the choice of the selection of multimedia courses. In digital arts the courses in demand are multimedia design, sound design, interactive design, instructional design, information design, creative web-based training (WBT) computer based training called CBT, multimedia apps designing for mobile gaming and mobiles shopping, creating an application for mobile devices such as Android and iPhone or Symbian. Flash action script training on version 3.0 popularly called as AS 3.0 is very popular these days so is the Flex RIA environment training. One big question then arises what kind of structure should a course in multimedia should offer should it be a diploma or degree, or a certification, the answer lies in it all. the ability of professionals in these schools and, finally, the structure of school fees. Programs recertification are provided by some schools of multimedia to help students pass the last update of the technology.
After completion of the course, students can try their luck in various media professions, such as video and sound engineer, multimedia systems analysts, animators, multimedia programmers, designers, graphic designers and operators of flash technology.
Some schools offer multimedia and animation courses at reasonable prices. The specialized courses offered in any field of specialization include multimedia and basic learning, including the inclusion of text, graphics, audio, and video in a program. The courses offered by these media centers offer various career options and opportunities for students.
TGC Animation and Multimedia is such institute offering vertical training segment in interactive multimedia training and provide certification directly from Adobe called Adobe Certified Associate- TGC., in addition, TGC thanks to its vertical training also provides the certification from IGNOU one of the highest bodies in education in India.
Contact Us