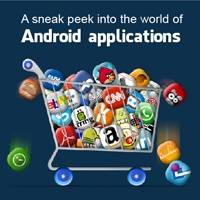 welcome
Name a thing you want to do and you will be able to find an Android application for it. To become a skilled Android applications developer you should join a good institute offering android development training in Delhi.
This article discusses in brief the Android applications market. It also throws light on Android application development as a career option and the institutes offering android training.
Android applications market trends
Google currently stands as the leader in the mobile market with a user base of 900 million. The latest Android Developer Conference, Google I/O stated that Google play store has over 800,000 applications. Analysts stated that Google witnessed around 48 billion application downloads. Each application was roughly downloaded approximately 60,000 times. Many institutes have risen to offer android training in Delhi.
To keep up with this demand, application-based services and products are hiring Android application developers in huge numbers. To gain specialized skillsets in Android application development you should join android development training.
Android applications are being developed in large numbers to solve our everyday needs. For e.g. an application called "National Rail Enquiries" helps you check train times and its arrival status live. You can plan your train journey accordingly, receive notifications when it's delayed and even set alarms. Another application called "Street Safe" is for women safety & helps you call your friends and relatives in emergency situations just through the click of a button.
Training needs
To build such great applications you should enroll yourself in a reputed institute offering android training. Formal training will put your talent in the correct direction and help you gain the much-demanded skillsets.
If you are interested in taking up android application development as a career you should first make a list of the institutes which offer training. To join any good institute it is important to possess basic knowledge of Java. Some institutes demand Java experience whereas some others demand to advance Java skill sets.
The training institutes start right from the history & basics of Android and then cover topics to help you understand each and every concept in detail. You learn about the building blocks of an application, the user interface, the Android application creation process with the corresponding technical concepts and application deployment to name a few. All the institutes offering android development training in Delhi have a well-defined curriculum aligned to the latest industry standards.
TGC Animation and Multimedia (www.tgcindia.com) is one such institute which conducts workshops and trains their students through practical lab sessions. When the android apps training course is nearing its end TGC encourages students to develop an android application on their own. If you take up an Android training institute in Delhi, you become eligible for many good android application development jobs.
With a rise in the no. of Android applications, the demand for android professionals is expected to rise in future. To join the android application development job pool as a skilled developer train at a reputed institute offering training.
Contact Us