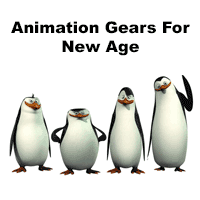 welcome
Hindustan Times, New Delhi, Tuesday, April 1, 2008
Animation Gears For New Age (Venkatesh Ganesh)
IT is like a cartoon character coming to life. India's animation services industry is slowly moving away from merely performing basics tasks like giving touches for animated characters to even storytelling and conceptualization.
Entertainment majors like Disney, Dreamwork or Pixar which used to look towards India to provide such basics task are now increasingly looking at India animators for concepts and ideation for the next shrek.
Recently, for the first time an Indian animator company, Compact disc India, was asked to develop a 90-minute 3D animated movie title "Goal" based on Brazilian football legend Ronaldo.
The company will co-produce this film with canyon Films, a Howllywood production company and as a part of the deal will develop all animated characters, including that of Ronaldo, out of its offices Thiruanthapuram. Just a few days back, the company joined hands with White Light Entertainment makersto produce a movie titled 'Playing with the Enemy' and for which it will provide visual effects (VFX).
Similarly, Accel Animation Studios, another company based in KINFRA Films & Video Park in Kerla the first SEZ (special economic zone) in the country for animation and gaming companies, is working on the release of 'South India Fables' for Los Angeles based Long Tale Inc.
South India Fables is an animation series based on the ancient Tamil work of couplet5s, Thirukkural, which is being taken all over the world.
Indian animation firm are increasingly in demand –both as an outsourcing destination and for home grown content. India with its rich past and storytelling that can relates to the global audience is slowly beginning to make its mark in the West," says Tapaas Chakravati, CEO of DQ Entertainment.
"In a few years from now, we would like to be remembered as an Infosys in the animation sector." says Suresh Kumar, chair man, Compact disc India.
There is considerable interst in Indian mythology with it sheer variety, which companies on the west are looking to cash on, Chakravati said." Now we are getting work from Disney, Nickelodeon Group, Mattel USA, Electroinic Arts World Wide, BBC WorldWide."
Despite the laurels, still a bulk of the work that comes to India is of basic 'color correction' kind ,that is equivalent to low –end coding work done by Indian software exporters."if you were to look at Indian animation, it still has miles to go before a Nemo or Shrek is conceptualized by an Indian company, says the CEO of a Hyderabad-based animation company.