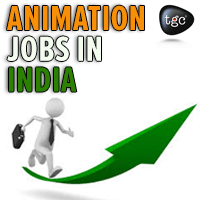 welcome
Getting an Animator Job in India
One of the goals of attending an animation school is getting a job. After the animation course, the student has to decide, what area of animation, he wants to work in and then prepare himself to work in that field. To get an animation job in India or anywhere in the world, certain requirements have to be met. An animator is responsible for moving characters in time and in a 3D virtual space to create a film or a game. Here is a quick look at the general requirement for an animator job in India
Anyone seeking an animator job should
Be able to Create and deliver high-quality animation content for a television commercial, films, animation shorts and games of different genres.
Be able to toUse sound animation techniques in nailing the required characteristics of characters and props. In other words, animating characters to sound is a very vital skill to have.
Be able to conveniently interpret& adhere to the client guidelines in achieving the work requirement. The whole essence of an animation job is client satisfaction which is much more important than self-gratification or showmanship. It is important therefore that an animator is able to accept and follow direction, collaborate with others to meet deadlines.
Possess a strong understanding of the fundamental animation principles. There are 12 animation principles which are the use of arcs, timing, anticipation, exaggeration, squash, and stretch, appeal, solid drawing, follow through, secondary action, pose to pose and straight ahead, staging, ease in and ease out. Most single animation work would make use of all these principles. The knowledge of traditional animation is also very vital. Traditional animation being mostly 2D animation.
Equally proficient in Maya and 3DS MAX. These two Autodesk products are the most essential and commonest in the multimedia industry.
Understand the animation production pipeline process such as modeling, rigging, rendering etc.
Have Strong storytelling and acting skill. The best reference for an animation work is acted out. An animator needs to be able to act out character expressions.
Possessing the knowledge of implementing animation into the game engine and rigging is a great advantage for an animator. Most animators are required to be good riggers, it is always important for an animator to have a working knowledge of rigging or to animate rigs that were made by the animator himself, that way there would be fewer hiccups in the animation pipeline between the rigger and the animator.
Have other personal skills such as being self-motivated, goal-oriented, being a team player, being a fast learner and possessing the ability to work under pressure with good interpersonal and organizational skills and problem-solving abilities with a strong commitment towards producing high-quality work.
A paper qualification is often required, although not mandatory, it won't hurt to have one. This puts the general hobbyist at a disadvantage. A BFA/MFA is the best animator job qualification to have, alongside a resume and showreel.
Contact Us