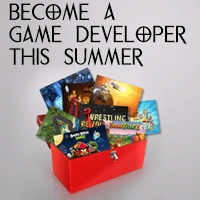 welcome
The world of Game Development has seen a substantial growth in recent years to become a multibillion-dollar industry in the world. Every day thousands of games are developed and some of the games go on to become viral sensations and cash cows for the developer and business management.  An interest in game development is all that is needed to dive into the world of game development after which a summer course or short-term course might be necessary. Creativity and logical reasoning would also be very important to design a game and have people play and enjoy it.
There are three sides to game development
Game Art
Game Art involves the creation of Game Characters, Gaming environment, and Gaming Dynamics effects. This is basically the look and feel of the video game, how the characters would look, how the environment would look like and every other visual detail in the game.
Game Design
Game Design is the aspect of game development that deals with the actual creation of the game concept. What is the game going to be about, how would the scoring be, how long would each round of the game last? Would it be played by one person or a group of people? How many stages would the game have?. The aspect mostly borders on creativity and innovation.
Game  Programming
Game  Programming is the coding of the design in order to create the functionality of the game. After the game has been designed, the functionality can only be brought to life by writing up some scripts, codes, and Logic. That is what game programming centers on
Each of these aspects can be learned separately in a summer series class or can be combined into a full-time game development course. To start your game developing program, here are the basic programs and software to learn.
Unity3D
Unity is a cross-platform game engine with a built-in IDE developed by Unity Technologies. It is used to develop video games for web plugins, desktop platforms, consoles, and mobile devices. It grew from an OS X supported game development tool in 2005 to a multi-platform game engine. Any Standard Game Development school should have unity3D as one of their major software courses. However, Unity Technologies provides free online training on their website. Documentation for the game engine classes and interfaces are also available online.
Examples of Games developed with Unity include Shelter, Gone home, paid etc. All the three aspects of game development can be carried out by this software.
HTML5
HTML5 is a markup language used for structuring and presenting content for the World Wide Web and a core technology of the Internet. HTML5 is the major backbone of interactivity in web platforms. HTML5 is also a potential candidate for cross-platform mobile applications. Many features of HTML5 have been built with the consideration of being able to run on low-powered devices such as smartphones and tablets. HTML5 is very useful for both the game art and game programming aspect of game development.
Contact Us