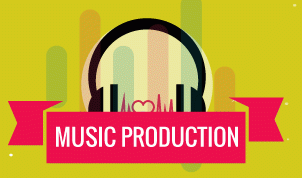 welcome
Music tends to create a personality as it fuels an individual mind and soul with the feeling like sympathy, trust, emotions and so on. It is the creativity and experience in the music that can be learnt through experiences, but the technical aspects and principles related to music can be inculcated through long training sessions and teachings. The music producer training is easily available to everyone through different websites, online music production courses, videos, books and so on.
There are many degrees or certificate learning courses for music producers to increase the future job prospects and worth by learning through their different programs. After enrolling yourself in music production and engineering one can learn many things like-
Contemporary professional recordings and other recording projects can be completed with great ease.
The enrolled students can avail the benefits of gaining knowledge of the music principles of production and engineering techniques.
One is able to develop an artistic and creative vision regarding the music fields.
It also gives an opportunity to work with the recording and production experts of the industry where interactions with the producers will increase the knowledge and skills. It gives a chance to work together on various projects and learn practically.
The full advantage of such courses helps the upcoming musicians to learn the variety of lessons on different musical instruments.
Besides all the above benefits which one can avail from the online music courses there are other areas like; recording, mixing, reproducing voice, coordination and sound effects are all taught by experienced musicians having hands-on expertise in their areas.
Music production schools are shaping the future of the music industry by providing the learners the access to the latest audio equipment and musical masterpieces to inculcate the best of out of them. To make the career success in the music industry one must look for institutions that provide the following –
Trainers with intensive industry experience-The tutors can shape the music career of their students by making them work on the latest technology and the trends to bring out the best musicians ever.
Cutting edge technology-The institutes must be embedded with the latest multi recording track software, consoles and monitoring tools, microphones and PA systems to show the right direction to their musicians.
Recognized certificate-On completion of the music course or sound engineering they should provide with a valid certification that is the proof that now you are capable of handling any audio equipment and recording sessions that you have learned with capabilities.
Once the course is completed the musicians can hit the music industry using their different skills for various audio creations for films, radio, online websites, and Television etc. Such courses are boosters to take the music career to the next higher levels. The starting pay offered after such courses are good and they also give a chance to get exposure in the music industry working with successful music composers and producers increasing the knowledge and learning new skills.
Contact Us