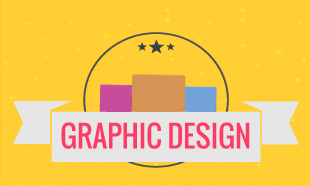 welcome
If you want to add life to a picture using colors and effects or if you can easily portray a message through graphics than a Career in graphic design is calling you! A graphic designing field is a form of visual communication where images and characters blended with animation and sound are deployed for conveying a meaningful message to the audience.
Why you should think about being a graphic designer?
There are plenty of reasons proving why it is beneficial to make a career in graphic design and a few have been encapsulated below:
Exploit your creative vision
Graphic designing is one field where you will be required to use tons of creativity. You cannot just continue to follow the same ideas or techniques for long as audiences tend to get bored and lose their interest. You will also get numerous chances to work for advertising agencies, publishing house, newspapers, packaging industries and what not. With each industry comes a new challenge as the clients and users of the product changes.
For achieving recognition and respect
The prefix "designer" in itself is a big achievement and people start looking up with great respect in their heart. If your designs speak for themselves and you have a history of the happy and satisfied client then people would love to work with time and again. If a graphic designer does amazing designing using the right techniques and tools clients are willing to even place their projects on hold to get their work done for them.
Proudly become a part of other's success
A career in graphic design gives you the golden chance to take pride in your client's success. Be it designing a logo for a company or maybe an iconic cover for a magazine issue or designing prints for clothes, the long-lasting smile on your client's face when you show him the final design is all because of you and your efforts.   
To become financially Secure and Independent
Clients are willing to spend huge bucks on worthy works of art. Trust me a career in graphic design can earn you lots of money. If you research properly you will be surprised to know that successful designers with unique and quality work are being paid unbelievably high by their clients. You build up great relations in your journey as a graphic designer and also get an opportunity to work with clients and people belonging to all segments of life. With time contracts turn into relations and bonds.
You can thoroughly enjoy it
Very few people on earth can actually understand the difference between "doing what you love to do" and "trying to love what you do". People who have been blessed with a creative instinct can thoroughly enjoy their career in graphic design as they are pursuing their hobby. Though there definitely come phases when you dislike your work and nothing seems perfect but then this happens with everyone working in any field.
Contact Us