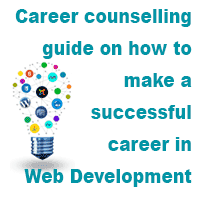 welcome
Career in web design
The term Web development is a broader term, which covers the different type of jobs, including the planning and managing of a particular website. This basically involves everyone from, the product and project managers to writers, designers, programmers etc. Web-development as a career opportunity has been achieving ground because of popularity in e-commerce that has seen more companies put on an online presence. In the next few years, it is probable that more services will implement cloud-based deliverance as their main channel of service. Seeing the trend, more and more youngsters these days are engrossed in making career in web design.

Job profile
The work of the Web development team is to produce a persuasive website. Web developers envisage of the website stratagem, working for or in association with the decision-makers in a business. They also find out the hardware that the website should use, the software required allowing it to function aptly, the design and navigation that will help the people to use it in such a manner that it supports them best, and always attract them to come back to the site again.
A Career in web design faces new challenges every day. In this high tech world people are using Bluetooth enabled or Wi-Fi enabled devices and yes the web developers these days are working hard to optimize the website that can help them run the websites on wireless devices also.

Requirements
As a large number of things are involved in the web development world thus there is the need of varied skills to be really successful in the field of web designing. Something that you need to master for career in web design is the computer programming language like HTML, XML, CGI, and Java and also the web development tools like the Acrobat and Dream weaver.
Obviously in addition to the formal education you need to have some skill, like the ability to work in the team, expertise of using the web for research, knowledge about changing trends, management skills. All this can be a great help in your work and will also help you achieve the desired success in a career in web design.

Getting trained
Fortunately these days there are large numbers of institute available which offered specialized courses which prepare you for your career in web design. A good course makes you well versed in this field, and a great prominence is given to the building your portfolio through the class or the internships. This not only gives the exposure to the students, but also give them a show their skills in the best possible manner to the potential employer.
However as the computer technology changes in the blink of an eye, it is important to be well-versed with the latest changes, for this attending the regular seminar, trade shows etc., is highly recommended.
As broadband technologies budge us ever nearer to an Internet that can be incorporated with all phases of our lives, the work profile in Web development will persist to progress. Thus it is important that those seeking a career in web design should give attention to the development of new technologies as well as industry trends.

Career Profiles
There are number of profiles at the end of successful course completion, a few are as follow