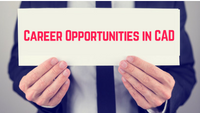 welcome
AutoCAD is an important part of CAD design. It is more than just a software program. It is an important skill used in different industries. You will need the vital AutoCAD skills in every field, whether it is engineering or drafting. Here, we will discuss what Civil and Mechanical engineers do with AutoCAD.
What Engineers do?
Engineering students join AutoCAD course to learn to produce specifications and designs for modification or manufacturing of mechanical systems or components. With AutoCAD, they are able to design such parts and run simulations like stress endurance to figure out whether these designs will work in high stress. It is also used in factors like volume, dimension or weight and to run cost estimates.
Mechanical Engineer
Mechanical students learn to develop, design and test mechanical instruments like engines, tools, and machines. They learn to process and design machines to resolve practical faults in aircraft to computer circuits and hydraulic systems with AutoCAD training. The engineers develop designs and test prototypes. They also analyze results and make changes when needed.
Civil Engineer
Civil engineers plan and conceptualize the construction of building systems and structures in the private and public sector. They are also engaged in planning and designing infrastructures, such as railways, roads, irrigation projects, and airports. Civil students learn to develop detailed plans in AutoCAD training institute for projects while considering the budget, environmental hazards, and risk assessments.
How to Start Your Career in Engineering?
Mechanical Engineer
You need to pursue a bachelor degree as a mechanical engineer in mechanical engineering technology. These programs consist of courses in life sciences, mathematics and design and engineering. Mechanical engineering technology is based more on practical training and less on theory. Some universities and colleges even enable students to achieve a bachelor's degree and master's degree.
Civil Engineer
You should have a bachelor's degree in civil engineering to become a civil engineer or in civil engineering technology. This program, again, includes courses in statistics, mathematics, fluid dynamics and engineering mechanics. Many civil engineers pursue a master degree to achieve desirable qualification in this domain.
Licenses
You should obtain a license in the field of engineering for entry-level positions at least. If you want to choose managerial roles or higher positions, you will often need a Professional Engineering license for higher levels of leadership positions. For obtaining a license, you need to earn a degree from a recognized engineering college and complete four years of experience at least.
Conclusion
There is no lack of AutoCAD career options for drafting, engineering, design, and architecture industries. It is up to your desire to do in regards of your education and sector you want to specialize in as how far you will go in CAD career.
Even though some careers have better job growth compared to others, but it is still true that civil engineers have a lot of opportunities. If you really want to pursue a career in AutoCAD, you should do your own research. Look for the best schools and colleges for courses and qualifications.
Contact Us