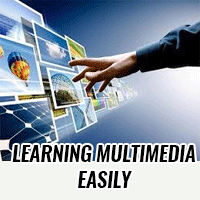 welcome
Multimedia Courses in Delhi
Gone are the days when after completing 10+2 you were looked up to adopt the careers that land you up on a secure platform. There was once a time when youngsters used to put their heart and soul for the preparation of hard to crack MBBS and BE entrance examinations. Thanks to the advent of technology! A vast range of career options is now available for you once you are done with your intermediate. Multimedia is once such career avenue that has the break the tradition of students going in for doctorate and engineering degrees. Certified Multimedia courses in Delhi provides you a getaway to enter the world full of opportunities.
What is Multimedia?
Before we discuss the importance of Multimedia as a career option and the significance of doing a relevant course, you should know what is Multimedia. It is a type of media that is a blend of various content forms like video, text, images, audios, and animations etc. It is more appeals because in this field you provide the viewers with captivating pictures, animations, sounds etc.
What is the Difference Between Animation and Multimedia?
Do not get bewildered about the terms like animation, multimedia, and graphic designing. They are all interrelated. A graphic designer creates graphics when motion is infused in those graphics then it is called Animation and when sound effects are infused to the animations, it becomes Multimedia.
What are the Scopes of Multimedia courses in Delhi?
As it has been mentioned earlier too that the successful completion of a Multimedia course in Delhi or elsewhere opens several avenues for you. There are indeed more career options available before you than you can possibly think of once you are done with the course. Enumerated here is a list of the career options that you can adopt.
Graphic Designer
Image Editor
Web Master
Presentation Artist
Sound Producer
3D Animator
Layout Artist
Template Artist
Web designer
3D Animator
Template Designer
Visual effects professional
And a lot more. Once you are through with a certified course in Multimedia, there would be no dearth of options available before you.
What all Skills Do You Need to be a Successful Multimedia Professional?
If you are tempted towards doing something innovative and if you think that the conventional career options are not meant for you then go ahead and get enrolled in one of the certified Multimedia courses in Delhi. If you have an innate skill of drawing and seeks pleasure in it then the right course can help you carve a niche for yourself in the field of Multimedia.
Why TGC is a Preferred Platform?
TGC Animation and Multimedia is a name you can rely on when it comes to getting the best possible training in Multimedia and Animation. Run by crème da crème professionals of the industry, this notable institute has helped plenty of aspirants to make a successful career in the field of Multimedia. If you really wish to catapult your career and reach the soaring heights, just log on to www.tgcindia.com.
Contact Us