Delhi, being the hub of career offers a land to a lot of students to study animation. Fulfilling the quest, there are various institutes too in Delhi offering the courses, but the selection can be tough. You can either pursue animation by doing diploma in animation or BSc in multimedia and animation or BA in animation after the 12th. It will lead your first step to toward the career of the best and a successful animator to rule the giant industry.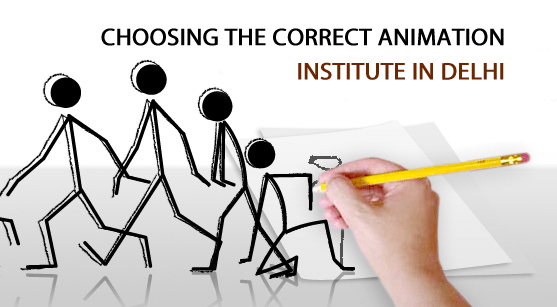 The animation courses are one of the most sought courses among the other others in India, as it has a broad scope all over the world. You can work for any giant companies, or can enter the film industry, or you can even make your own films, after successfully completing the course. So, the dream can be true once you have the motivation for the course and a seat in the top animation institutes in Delhi.
See all the below mentioned points, while choosing the right animation institute in Delhi.
Check whether the animation institute is certified or not. If you study in a non certified institute, then there is a very little chance of getting a good job and an internship. But, if you study in a certified institute, then you have a job opportunity in national as well as global platform.
Look for the one which has better job placements. There are some institutes which do not offer job placements, and some offer, but not too good. So, research well before getting into an institute, for better job placements.
There are various courses available in the animation industry. So, choose the one that you are interested in. You can also consult a counselor of the institute to get a detailed knowledge about the courses. Know what kind of skills you want to acquire and what you are likely interested in, because you don't want to blame yourself later.
Collect information from ex-students of the institute-
Yes. This is also necessary. You must ask the ex students of the animation institute about their experiences, details about the campus, and job placement, as you don't want to land into the wrong institute.
Check if the institute has a trained staff-
 Ask them about their education and see if they are certified and professional teachers, so that you are being taught by the trained staff. Don't be shy to ask that because if your teacher is attached to any production companies, then it can be very much beneficial to you. Experienced and professional staff hasgreat knowledge and skills, and can help you in a lot of ways.
Animators are in great demand now, due to the use of VFX in movies. There are various animation institutes out there in Delhi. Some offer great services and placements. So, whatever you do, do well research about the institute you want to get in. Shortlist the institutes, where you want to study. Then look for the one which has great services, superb placements, and experienced staff members. These tips can help you land on the best institute, because these small steps will help you a lot in the future.