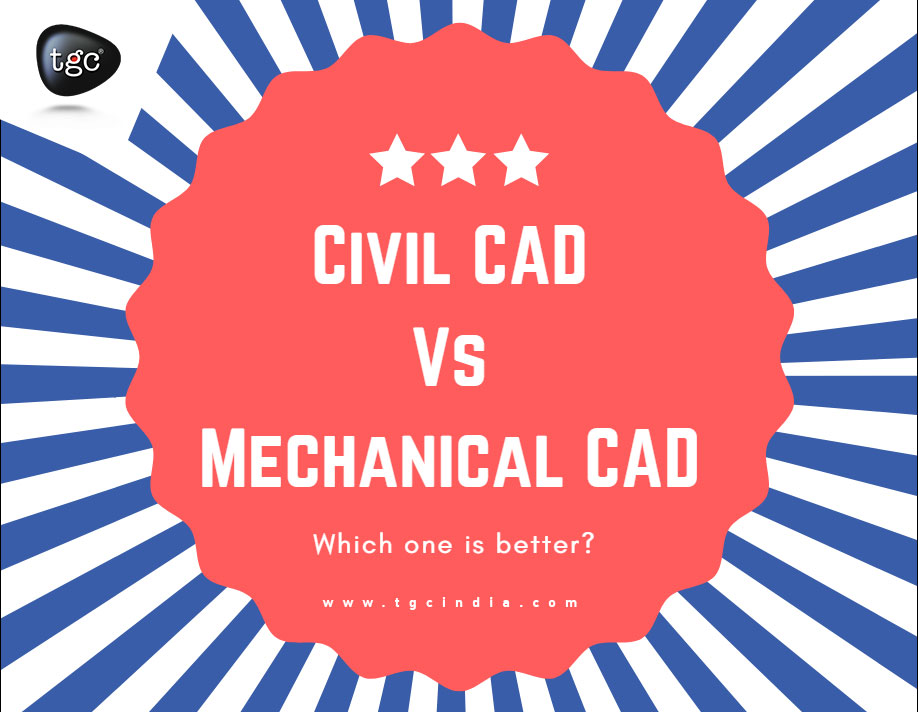 welcome
Computer Aided Design or CAD is a generic term which is used to describe the use of tools and software to create technical 2D and 3D drawings. In general, CAD is used to transform geometric patterns into designs and create various designs.
On the other side, AutoCAD is a proprietary software program which is used for the same thing. It was created by Autodesk in 1982. AutoCAD is a program used in all aspects of design for infrastructure, manufacturing, and construction, along with an entertainment and media to create 3D visuals and effects.
Difference between Civil CAD and Mechanical CAD
Basically, it is believed that there is no significant difference between mechanical and civil CAD programs. The difference is when it is used for both of different fields. It is used by a civil engineer to design structures like foundation, beams etc. On the other side, it may be used by a mechanical designer to design any mechanical part.
Actually, Mechanical CAD has all the features of AutoCAD, along with a library of tools and parts according to standards. So, let's compare AutoCAD and Mechanical AutoCAD.
Functionality
Mechanical CAD is accelerated to all the functionality of AutoCAD, along with libraries of tools and parts based on standards. With 3D and 2D CAD program, you can design every aspect. You can easily share drawings across cloud, desktop, and mobile.  
Uses
As the name suggests, Mechanical CAD is used to create, document and modify mechanical designs in the manufacturing industry.
On the other side, AutoCAD is used in 2D drawings, drafting and documentation, and 3D visualization and modeling.
Why Use Mechanical CAD?
For drafting and design in the manufacturing industry

For automating various tasks in mechanical engineerings, such as creating documentation and dimensioning of materials, and generating components of the machine.

Providing a library of comprehensive standard parts to promote design
Why use Civil CAD?
To edit and create 2D geometry and 3D models with surfaces, solids, and mesh objects.

Customize tool and ribbon palettes

Annotate drawings with dimensions, text, tables, and leaders

Customize with APIs and add-on apps

Import and attach data from PDF

Extract object information to tables

Keep track on and apply CAD standards

Use and share data from Bing Maps, DGN files, and Navisworks
Licensing
AutoCAD Mechanical comes in single user license only, while AutoCAD comes in both multi-user and single-user licenses.
In addition, AutoCAD Mechanical includes AutoCAD app. On the other side, AutoCAD includes AutoCAD app (for the US) and access to Autodesk App store.
Other CAD Programs
When AutoCAD is designed for professionals, there are different CAD programs, such as TurboCAD Deluxe and SketchUp designed for the common user who is looking for similar functions of AutoCAD but without having to gain extensive training and bearing the high annual cost.  However, some CAD programs can design only either 2D or 3D models/drawings, while AutoCAD is capable to perform both.
Conclusion
TGC India is the leading Civil AutoCAD Training Institute in Delhi which provides various programs for drafters. We also provide AutoCAD Mechanical Training in Delhi to help you create technical drawings and models for various industries.
Contact Us