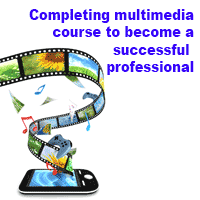 welcome
The fact is that multimedia technology has been stated to be more about using interactive computerized elements such as graphics, text, video, sound, and animation for imparting any type of message. It is for this reason; it has become the most favored tool among entrepreneurs of all types and domains for sending across messages related to the business to the targeted consumers and potential clients.
Using the tool does help them to communicate thoughts and ideas in a much better way and in digital edition form. Both software and hardware programs could be utilized for running and developing ideas. Hence, for becoming multimedia professionals, it is very much important for the individual to undergo the course only from the best multimedia training institute present in the region, one that can provide the right kind of training and knowledge in the specified domain.
What are the students taught in the course?
On enrolling the Multimedia course, the candidates are taught to know how computer-based programs can be utilized for creating a variety of digital presentations, much to the satisfaction of the viewers and to get quick and better results for any business. It can be stated that the impact made by animations are huge, the reason why, they are immensely favored upon by establishments of all sizes and types to promote their brand, products, and services.
Through the different types of multimedia programs, the candidates are taught to use Adobe Photoshop, Dreamweaver, Illustrator and the like. They are provided with both practical and theoretical sessions. A good and reputed training center is likely to ensure that all its students who have enrolled for the Multimedia course avail the very best training facilities while offering the below-mentioned services.
A well planned and structured course having practical work.
Offer successful candidates with a guaranteed job for kick-starting their careers.
Provide opportunities towards indulging in several types of live projects, so that the candidates can derive better understanding about the kind of work they are involved in and know what is to be done for meeting employer-client satisfaction.
Training gets imparted under the strict supervision and guidance of expert and experienced faculties.
Offering easy fee payment choices.
What else does the training program include?
The training programs tend to include sessions related to usage of CorelDraw X4, Adobe Illustrator CS 4, Adobe Photoshop CS 4, Flash CS4, HTML, Sound Forge 8 and JavaScript, etc., depending upon the course selected by the candidate.
What are the career options after completing the course?
The different career options are as follows:
Organizations offering website development and designing services
Publishing houses like journals, magazines, etc.
TV production agencies
Advertisement corporations
Graphic design studios
Hence, animation that is considered to be a noteworthy multimedia family member is among those sections that can prove to be an excellent career. One can find that several animated characters did have gained immense popularity. With the entertainment industry having a huge demand for qualified animators, this is indeed the right stream and career to choose.
Contact Us