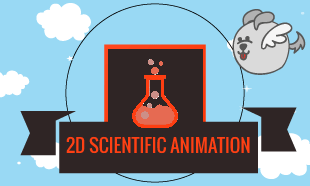 Instructors
Adv. Certification in Scientific Animation
Adv. Certification in Scientific Animation
INTRODUCTION
The 2D Media and Scientific Animation is the generation of illusive motion using two-dimensional models. It is often known as the traditional Animation and marks the basis for the principles of Animation. 2D Animation can be fully executed by hand or by the use of a 2D software. It is still widely used for films and Commercials in both Media World and the World of Science
OBJECTIVE
A 2D Media and Scientific Animation course that would teach the student the fundamentals of creating a 2D animation
COURSE OUTLINE
Introduction to 2D animation
The 12 Principles of Animation
2D Character and Background Design
Key Frame Animation
Traditional Animation Techniques
Morphing Features of 2D animation software
2D Character Rigging
2D Walk Cycles
2D Lip Sync
Action Scripting
COURSE BREAKDOWN
MODULE 1
Introduction to 2D animation
What is Animation?
Understanding Keyframes and Tweens
Understanding Deformations
Difference between 2D and 3D animation
Traditional Animation by hand
Traditional Animation by Software
MODULE 2
The 12 Principles of Animation
Timing and Spacing
Squash and Stretch
Straight ahead and pose to pose
Arcs
Follow Through and Overlap
Slow in and Slow out
Anticipation
Secondary Action
Exaggeration
Solid Drawing
Appeal
Staging
MODULE 3
2D Character and Background Design
The use of Sketches
Placing sketches into Software
Use of Silhouette for right and left arms, right and left legs, heads, shoulders, and torso
Shadows and highlights
Embellishment Addition
Coloring
MODULE 4
Key Frame Animation
Setting Keyframes in the timeline view
Use of Data Views with Keyframes
Setting Pivot points and Hierarchies setting for keyframe animation
Keyframe animation using inverse kinematics
MODULE 5
Traditional Animation Techniques
Visualizing animation through the use of Thumbnails
Sketching Key poses
Breakdown Pose Sketches
In-betweens sketching
Applying for Line Work
Flattening Linework and creating Color Art
Coloring our Animated Character
Flattening Linework and creating Color Art from Line art
MODULE 6
Morphing Features of 2D animation software
Morphing Overview
Timing and velocity
Morphing Sequence of fumes and grass
Character Morphing
Placement of Morphs
MODULE 7
2D Character Rigging
Rigging with Curve Deformers
Setting up Hierarchy for curve deformation rig
Deform Module
Curve Deformers to rig a Parameter
MODULE 8
2D Walk Cycles
Contact pose
Down pose
Passing pose
Up pose
MODULE 9
2D Lip Sync
Drawing Phonemes for lip sync
Auto Lipsync
MODULE 10
Action Scripting
Writing simple 2D animation Scripts.
BY THE END OF THE 2D Media and Scientific Animation COURSE, STUDENTS WOULD BE ABLE TO
Make Realistic 2D animations.
SOFTWARE COVERED
ADOBE Photoshop
ADOBE Flash
Toon Boom
Pencil
Adobe After Effects
Autodesk Animator
Swish
CAREER OPTIONS AFTER COURSE
Students who have completed this course have the following career options
Digital Painting Animation
2D Animator
2D Matte Painting
Texturing Artist
Sketch Artist
Story Board Artist
White Board Animator
WHY TGC?
TGC India is a leading Graphics and Animation Institute in Delhi with branches across the country. TGC India has been in the field of Multimedia Education for over 10 years and has well trained and highly experienced staff. A lot of local and foreign students have been trained in TGC India and these students would recommend TGC India in a heartbeat due to the  Industry standard skill set and Excellent educational Environment, TGC India provides the student. Take a 2D Media and Scientific Animation Course in TGC India today and start your journey to expertise and career fulfillment.
Similar Courses
Upcoming Batches:
Course Reviews
No Reviews found for this course.