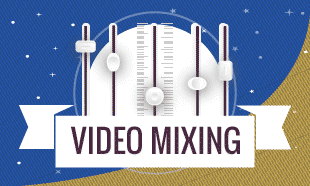 Instructors
Adv. Certification in Video Mixing
Adv. Certification in Video Mixing
INTRODUCTION
Mixing of videos involve tutorials of interactive video making in which concepts and principles of digitized mixing of videos and mastering of audio clips modifications are demonstrated. Distinct examples are taken from applications of distinct softwares like Sonar, Pro Tools, Voxengo, and waves etc, which are used to draw different types of videos as per the requirements. Adobe Flash Player software is majorly used to ensure the formatting and designing of videos.
Objective:
The very objective of video mixing is to mix different types of videos from various video sources partially to give special effects and entertainment to the audiences.
Course outline:
This course teaches you various aspects like-
Monitoring the setup of the studio and discussing the K-Metering
Discussions on processing levels, which are to be broadcasted
Demonstration of Voxengo trans gainer and drum former
Demonstration on, how to master the skills of Parallel Compressions and Upward Expansions
Learning about the statistics of encoding for AAC
Demonstration on soft clipper of IK Multimedia and T-Racks
Study about the applications of codes of ISRC
Finding out alternatives, to measure RMS, and proportions in proper weightings
Demonstration of different spectrogram applications
Technologies:
Compositing, maintaining patterns, luminance, chrominance, digital graphics on the screen etc are used for the proper understanding and development of the concepts.
The outcome of the Course:
After completing the course, students will be groomed well on mastering the detailed concepts and tactics of mixing of videos. They will know the applications of mixers and compositors to make creative videos within bounded time limits. Students will also learn the use of additional features like serial and parallel communications with the ability to use protocols of proprietor communication. They will know the perfect arrangements and setups for practical circuitries, temperature, considerations of length of the cables, noise perfections and imperfections etc. They can carry out separations skills of some of the parts accessories of the circuits, and also perform proper synchronizations with the help of synchronizer. Various technologies are used in the mixing of videos. It involves blending of colors using the color bar, adjusting of pictures like zooming in and zooming out, online library, superimposition of keys and speakers etc.
Career Scope:
There are several career options open for the students attaining this course. Students can work in media industries, advertisings, and film productions etc after mastering the skills of video mixings. It has a wide scope with the boon in the media industry. With audiences expecting more and more from entertainment sectors, students will explore huge options for framing their career.

Why TGC?:
TGC offers certification from the affiliated university. It has well-planned syllabus structure and trained teachers to impart knowledge to the students. Properly maintained classrooms, amenities, labs, and libraries are the main features of TGC.
Kindly contact our representative for more information.
Upcoming Batches:
Course Reviews
No Reviews found for this course.