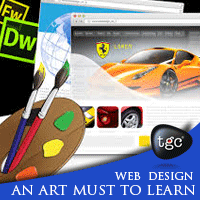 welcome
Finding the right career for you is a daunting task, and with the popularity of information technology and the e-commerce, numbers of people are now thinking of making their career on the path of web designing.  It is a very promising career opportunity; especially when it comes to making this as your full time career. But in order to endure and to be successful in this highly competitive field it is important for you to go for the right web design training in Delhi.
What is web design all about?
Web design involves creativity and meticulousness; and these qualities can be innate or can be attained. If you are born with this panache, then it is important for you to get the guidance to become a promising web designer, and for this nothing can be better than the formal training in this field.
Web design brings together artistic visualization and technical expertise. Designers possess an eye for effectual online presence as well as the programming capability to accomplish the design. An indispensable understanding of marketing principles helps Web designers ascertain themselves as digital marketing design connoisseurs.
Your course will include the basic and fundamentals of all the things that you need to make your website look more appealing.
Does Training prepare us well for the career?
Institutes, offering web designing course in Delhi introduces you to all the details and intricacies of this field. The faculty of this course is very well versed with the theoretical approach and the practical applications. The course is specifically designed to make you familiar with the important things like, publishing; scripting software; site management; computer graphics; and driving traffic to a site, which are very essential things to be successful as a web designer.
In fact TGC Animation and Multimedia which also offer certification programs for web designing training in Delhi. This training will provide you the state-of-the-art knowledge and progressive skills which would make you pick-out in no time.
What is the job outlook for a web designer?
These day web designing field is considered as one of the most promising field, and it is believed that in the coming years the demand of web designers is going to increase manifold. This high demand is directly related to the dependency on the internet for each and every aspect of life. Web designers can get job opportunities different industries such as the Internet service providers, Internet consulting firms and specialized Web design companies. In fact advertising firms and graphic design shops also have a job opportunity for web designers.
Also the experience in the field along with your impressive portfolio, you can establish your career as the independent contractors also, where you can work for businesses or the individual clients. Getting trained in high-tech design technology from a TGC a reputed web design institute in Delhi empowers web professionals to comprehend their artistic potential. Technical certifications are eventually a means to attain the crucial credential: a strong Web design portfolio. They provide assured placement at the end of the course, infact their biggest testimony is more than 12000 passed out students, most of them working in the web design industry in India and abroad.