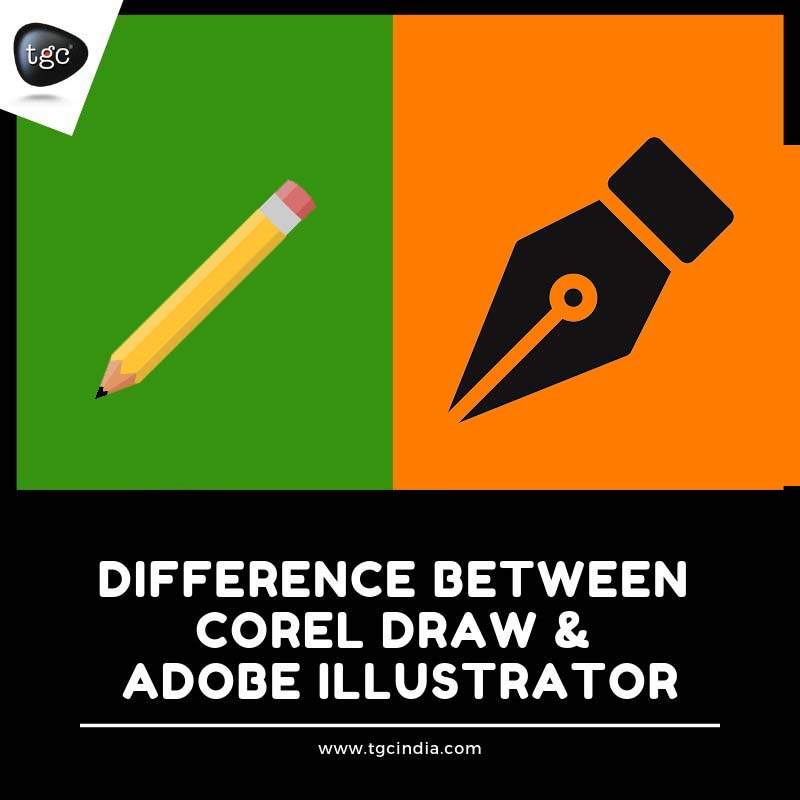 welcome
Both Corel Draw and Adobe Illustrator are vector-based programs for illustration and graphic designing. These programs are intended to give quick results and meet the needs of graphic artists and professionals and they are widely included in any graphic design courses in Delhi.
Here are some of the major differences between them.

Adobe Illustrator
In 1986, Adobe Illustrator was launched by Adobe Systems as Font Development program and Postscript format.
In 1988, Illustrator 88 was second version and introduced and released with a lot of features and tools. CS4 is the latest version released in October 2008, which features great improvements over old tools and brand new features.

Some of the latest features of CS4 include Transparency in Gradients, Multiple Art Boards, Blob Brush Tool, In-Panel Appearance Editing, 'Gradients Exposed', and Separations Preview.

There are around 100 art boards with different styles in Multiple Art boards. The Gradients feature really has great transparency to reveal underlying images and objects, to use multiple layers, create rich texture and color mixes, knockouts, and cover-up fades.
There is a brush tool "Blob Brush" which can generate clean vector shape, even in case of overlapping of strokes.

With 'Gradients Exposed', we mean you can interact with gradients on the object. With In-Panel Appearance Editing, you can easily edit the characteristics of an object in the appearance panel directly and there is no need to open the stroke, fill, or effects panels.
With Separations View, you can finally avoid color output shocks like unwanted overprinting, spot colors, and overprints, CMYK blacks in placed files and texts, and white overprinting. While taking up any graphic design courses in Delhi or in India, it is mandatory to learn Illustrator for a bright career.


Corel Draw
Developed by Corel Corporation in 1987 in Ottawa, Canada, Corel Draw is also the vector-based graphics suite and was the first of its kind in 1989 when first version was launched.
It comes with a font manager, Photo Paint, and other features common in all versions. The X4 is the latest version launched in 2008.

The main feature of X4 helps you create designs faster. It has innovative tables to create and import to form structured layout for graphics and text.
It also has independent and new page layers which can be controlled by creating separate page layouts in the multi-page document.

In addition, it has latest font integration where you can identify fonts immediately which are used in designs from the clients.
Now, X4 can support raw file formats for different types of cameras. Some other exciting features are mirroring of text vertically, horizontally or both, live text formatting and centerline trace so you can easily trace signatures and line drawings, etc.
While you are planning to learn a graphic design course in Delhi, learn corel draw leading in any vector tools used for graphic design.

Summary
Adobe Illustrator was initially used as Postscript file format and Font Development program, while Corel Draw is the first Graphics program with Photo-Paint program, font manager, and combined vector graphics suite and other features in common with all versions.
TGC India is the best graphics design institute in Delhi covering both Adobe Illustrator and Corel Draw in their courses for students. At TGC, We have highly qualified professionals to teach both software programs.

Contact Us