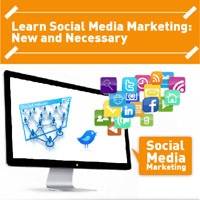 welcome
Social Media Marketing abbreviated as SMM is the new wave of a trend that has splashed the internet marketing segment. Social Media marketing is the phenomenon of drawing users of social networking sites to e-commerce or business websites with the ambition of turning them into budding clients or buyers or both. In a nutshell, it is exploiting the technique of electronic Word of mouth for gaining business. A lot of premier institutes have included this new form of marketing technique in their curriculum for digital marketing training In Delhi.
How to become an SMM consultant?
You can become an SMM consultant by undertaking a course for internet marketing training In Delhi. To ensure that your investment doesn't end up going in vain go for a certified course from a professional institute under the guidance of crème de crème professionals having tons of experience in the field of internet marketing.

What all is required to become a Successful SMM consultant?
You must have all or the majority of the skills mentioned below to become a successful consultant:
Completed your 12th with the percentage required for the course or a graduate from a recognized university or board.
Sharp communication skills
Creative and rational thinking
Curiosity to learn and experiment
Ability to persuade people
If you have these qualities then you must enroll in digital marketing training In Delhi.

When can you expect results?
Internet marketing training in Delhi from premier institutes can be completed within a time period of 1 month to 3 months. Joining one of the best institutes or schools for mastering social media marketing can help you in getting placed with one of the best national or international IT companies within no time post completion of course.

Job Opportunities
Post completion of your digital marketing training In Delhi, you can work as one of the following:
An intern under a reputed Consultant or firm: You can expand the canvas of your experience by working as an intern under a flourishing SMM consultant. His guidance can give you the right kind of exposure to various tools and techniques used in the actual field of social media marketing. You will get to work on live projects, attend meetings, build relationships and along with all this, you will be paid for your efforts.
Virtual Assistant: Work as a VA or virtual assistant for business owners, e-commerce website owners, etc. and manage their website, blogs, etc. on their behalf. In short, you will be supposed to perform tasks that cannot be executed by your boss due to his hectic timetable.
Start your own firm as an SMM consultant: You can start your own company and perform social media marketing for your clients. This can be done soon after completing your course or after acquiring experience as an intern or an SMM consultant in a company.
Work in a Company: You can begin working as an intern or directly as an SMM consultant in an IT based company and earn the prospect to work on marketing projects involving various job responsibilities.
Contact Us