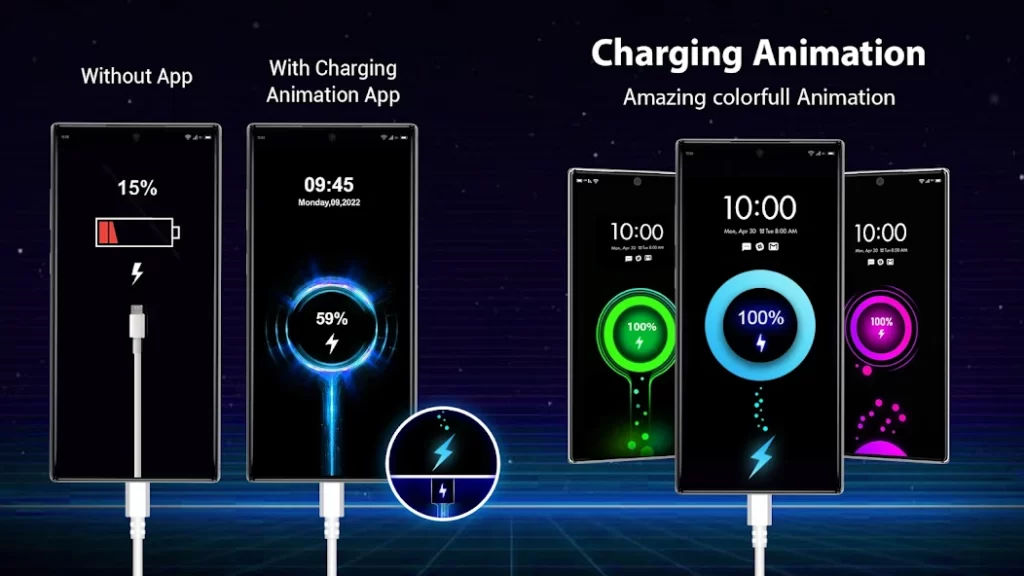 welcome
How to Download the Battery Charging Animation App
In today's world, we all love to make our smartphones uniquely ours. From wallpapers to themes, personal touches matter. One cool feature to consider is the battery charging animation. With the 'TGC Animation and Multimedia' app, getting a stylish battery charging animation is easy! Here's your quick guide how to download the battery charging Animation App:
Why You Should Download the Battery Charging Animation App:
Make It Yours: Change up your device's look when it charges. It's a fun way to show your style.
Cool Experience: It's more than just charging. Enjoy looking at your phone while it powers up.
Stay Interested: Waiting for a full charge? The animations keep things interesting.
See the Charge: Animations can show how fast your battery fills up.
Fun Reminder: A neat animation can be a fun nudge to plug in your phone.
Be the Trend: When friends see your charging style, they'll want one too!
Easy to Use: Don't worry if you're not a tech expert. These apps are simple to set up.
Fresh Looks: Some apps give new animations now and then, keeping things fresh.
No Slowdowns: Good apps won't make your phone slow or eat up your battery.
For All Devices: Whether it's a phone or tablet, enjoy animations anywhere.
Why Choose TGC Animation and Multimedia's App?
Before we get into the steps, let's see what sets our app apart:
Cool Designs: Our team crafts modern animations that are fun and unique.
Easy to Use: Our app is simple. You can set up your animation quickly.
Battery Friendly: Our animations are pretty but don't drain your battery.
Always New: We keep adding new animations and features based on what users like.
How to Download the App
Go to Your App Store: This works for both Android and iOS.
Search: Type in "TGC Animation and Multimedia Battery Charging Animation".
Find Our App: Look for our brand logo in the results.
Download: Tap 'download' or 'install'. The app will install once it's downloaded.
Get Started: Open the app, pick your favorite animation, and you're all set!
Common Questions
Is it free?
The basic app is free, offering many animations. For more designs, there's a premium version.
Can I use it on my tablet?
Yes! It works great on smartphones and tablets.
Will it slow down charging?
Nope, the app only changes the look of the charging. It doesn't affect the speed.
I have an animation idea. Can I share?
Of course! Send us your thoughts in the app's feedback section.
Conclusion
Adding a personal touch to your phone can be as simple as a fun charging animation. The 'TGC Animation and Multimedia' app lets you do just that. It's user-friendly, battery-friendly, and full of great designs. Give your device a new vibe every time you charge. By Reading TGC's How to Download the Battery Charging Animation App Blog get the app and make your phone truly yours!
Contact Us