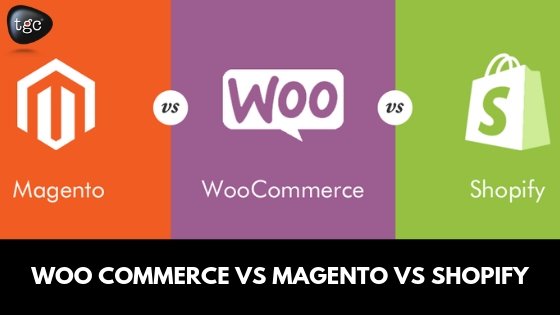 welcome
It is not easy to choose the best e-commerce platform for a lot of entry-level and small businesses. In this day and age, there are thousands of options out there but selecting one is not that hard. As ecommerce development is booming nowadays, there is huge demand for ecommerce tools nowadays.
You have to pick up shopping cart to meet your needs to make your store very profitable. Whether you are a new or experienced online retailer, you should choose the best ecommerce platform.  
WooCommerce, Shopify and Magento are some of the popular and widely used ecommerce platforms. Here, we will help you choose from these shopping cart solutions as per your needs.
Market Share
You can have complete knowledge about the popularity of ecommerce platforms by considering their usage statistics and market share. Currently, Magento Community Edition has 25.3%, WooCommerce has 23.7%, and Shopify has 8.7% market share. Hence, Magento is the most commonly used ecommerce platform in the world these days.

SEO-Friendliness
WooCommerce is known as a SEO friendly platform due to different types of customizations out there and it enables access to source code of the store. According to ecommerceplatform.com stats, WooCommerce stands 98 off 100 in SEO.
However, Magento is highly customized for great SEO functionalities. You can access a lot of functionalities out of the box. Hence it scores 100 out of 100.
On the other side, Shopify offers a lot of great SEO features and is highly SEO optimized. It has scored 98 out of 100 in terms of SEO. Here, Magento is the winner.
Cost and Prices
WooCommerce is a free ecommerce plugin which comes with free updates. However, it also has some paid SEO extensions. Officially, pricing starts from $49 per platform.
There are two pricing plans for Magento. First one is Community Edition which is free and next is Enterprise Edition for enterprise and businesses. You can contact Magento support to know about its pricing.
Shopify offers 14 days free trial and basic plan is starting at $29 and advanced plan costs $279.
Security
You should opt for SSL certificate in WooCommerce which costs up to $200 to $300 and is offered by third-party or host. On the other side, WooCommerce needs strong passwords for security, iThemes and limited logins which are common in WordPress.
You need PPI and hosting in Magento to secure your E-commerce sites. You just need a strong password in Shopify as SSL certificates are covered in Shopify subscription plan.
Design and Templates
Any WordPress theme can work with your plugin in WooCommerce. You can choose from thousands of WooDesign themes for your website. In addition, it also has an edge over Magento and Shopify. You can also find stunning design themes in platforms like ThemeForest.
You can download Magento themes from Magento Connect where you can find huge library of templates. Paid themes cost up to $0.1 to $100. Shopify has 9 free templates to offer and paid theme costs $140.  
Bottom Line
If you are looking for the best e-commerce courses in Delhi which can make you master in customization for all the three platforms with an easy to make modification in admin panel, applying for extensions, applying payment gateways there comes no institute and education as provided by TGC, TGC trainers are experts and have years of experience in E-commerce integration.
Our Web Design and Web Development courses are very popular ones and strive to give students the freedom to use web technology with street smart skills.
TGC Animation and Multimedia is the best Website Designing and Web Development Institute, located at Delhi's South Extension, Preet Vihar, Jaipur, and Gwalior
TGC also provide free trial sessions to its students on integrating e-commerce and working on Web Navigation. for more information visit www.tgcindia.com
Contact Us