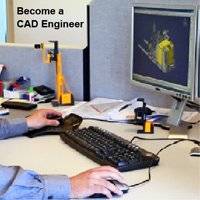 welcome
Whether you are a new job seeker or a person who is looking for a switchover, you never stop hunting for better job opportunities. But, if you aspire to carve a niche for yourself in the software industry, you need to have the computer-aided design skills and knowledge. For this plethora of courses are available these days, if you are prudent enough to choose AutoCAD course in Delhi you can open a doorway to a lucrative career where there would be no looking back.
To be really successful in the profession, you have to get the right education and training. In a nutshell, it is the education and the training imbibed in you that ultimately decide whether you will up with flying colors or cut a sorry figure. This article is an attempt to enlighten the education and the type of training you require to be in this profession and how you can get the best education for the AutoCAD course in Delhi.
Understanding the work of a CAD engineer
Abbreviation for Computer Aided Design, a CAD engineer mainly works for designing various products for the enterprises. It can be any product ranging from vehicles to furniture. A CAD engineer also designs the objects for the implicit world that can be used as the simulation or as outlines for prospect products.

Grasp Knowledge
Degree programs are offered in CAD designing these days, which prepare the students for designing and development of the products. The courses are meant to edify the students the skills of translating the rough sketches to the drafts and to the specification sheets, showing each and every detail to their client. Being an engineering student you can get your specialization in any field such as mechanical, computer, or automobile engineering. The choice should be dependent on the path you want to take in your career. CAD engineer is required in all the engineering fields, so choose the one which is of your interest and where you can show your skills properly. AutoCAD course Delhi for engineers are available at three different levels, which are basic, advance and the professional AutoCAD courses.

Course content
Some of the relevant subjects that are taught under this are the mechanical drafting, magnetic drawings, architectural layouts etc. These courses also give an opportunity to the students to work in the laboratories and apply their knowledge in classroom settings.
Gain Experience
Education in this field is extremely important but it is of no use if you don't know how to use it. This experience is imperative to be successful in this field. Although you can learn techniques and concept in your curriculum of your AutoCAD course in Delhi, it is really important that you practice and have years of experience in this field, then only you can come out as a true expert.
If you are looking to build a career as a CAD Engineer, then TGC Animation and multimedia is a one-stop solution to make your dream come true. Feeling the scarcity of didactic and research facilities, and execution of new generation expertise, TGC has come up as a high-tech institution for education and research in the field of Multimedia, Animation, web designing, php training and AutoCAD course in Delhi. The center has a long list of well-established alumni who are working as the researchers, professionals and the researchers in this high tech world. For more details refer to the www.tgcindia.com.
Contact Us